25 Days of Movers and Shakers in the Disability Community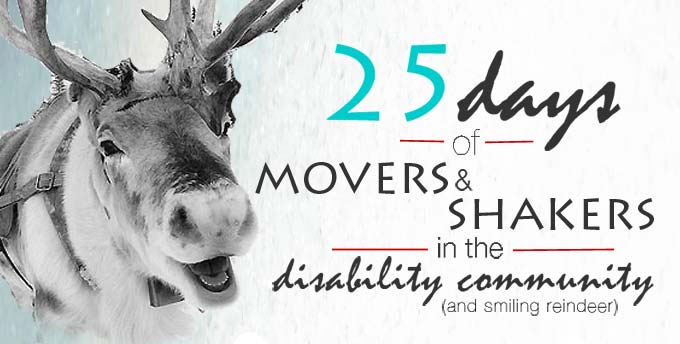 Recognizing the nations most promising up-and-comers in the disability community. 
The disability community is saturated with multi-millionaires and celebrities who donate money to advocacy groups and non-profits. Sure, we're grateful for their contributions. And their generosity should not be overlooked.
But what about the people who don't fit the c-level status quo? The creative. The thought leader. The innovator. Or the grass roots advocate.
We want to recognize them.
The Mobility Resource (TMR) presents a special series highlighting 25 of the nations most promising movers and shakers in the disability community.
Beginning December 1 and each day after, TMR will highlight an individual who's shaping the future of the disability community.
TMR's content team searched for weeks to find a diverse group of visionary and influential people whose efforts make a difference in the lives of people with disabilities.
"We received an overwhelming response of nominations, but we narrowed the list down carefully," said Chris Miller, director of interactive marketing. "We wanted to recognize the up-and-comers. Parents, entrepreneurs and thought leaders made the list over established professionals."
Enjoy 25 Days of Mobility Movers and Shakers throughout the month of December at http://www.themobilityresource.com/25-days-of-movers-shakers/
Contact: Chris Miller cmiller@themobilityresource.com 330.842.7443  
Powered by the Braun Corporation, The Mobility Resource is the only online adaptive driving marketplace featuring the largest inventory of wheelchair vans for sale.
Welcome to the only online adaptive driving marketplace with showroom locations throughout the U.S.
The Mobility Resource™ is a network of mobility dealers who make traveling easier for you or your loved one. Whether you're searching for adaptive equipment for your scooter or wheelchair, or an innovative product like our Turning Automotive Seat that makes getting in and out of a vehicle easier for anyone, our customized solutions are available to those with a wide range of needs.
Wheelchair vans have never looked so sharp. Until now.
Sign up for our Email Newsletter
Get the most recent Mobility Resource news delivered directly to your email.