Minnesota Disability Grants and Funds for Wheelchair Vans
Financial Aid Resources for Handicap Vans for Minnesota (MN) Residents
In Minnesota, persons with disabilities and their loved ones have numerous options for finding grants and other funding to apply toward a wheelchair van. If they know where to look, state residents can easily locate financial assistance for acquiring a new or used handicap van, or for handicapped-accommodating equipment and conversions, including ramps, lifts and turning seat systems.
If you want to lease or buy a wheelchair van, or if you want to install accessibility accessories or adaptive driving controls in your vehicle, the following nonprofit organizations and state agencies are well worth contacting. Some award Minnesota disability grants themselves; some help residents secure such assistance. Visit the websites for more information about disability grants or to get help finding and applying for financial aid.
Along with the resources below, turn to state chapters of organizations that benefit people with your specific disability. Many supply disability grants directly, and all can help you find other grants for which you may be eligible.
Sources for Minnesota Disability Grants and Assistance
Assistive Technology of Minnesota (ATMn)
As a disabled Minnesotan, ATMn is your lifeline to financial assistance and other help where assistive technology, including a handicapped-accommodating vehicle, is concerned. Put this nonprofit high on your list of contacts when you begin looking for ways to pay for your accessible ride.
P.O. Box 310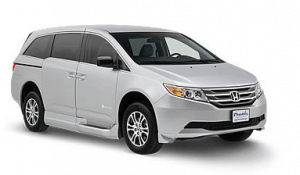 Maple Plain, MN 55359-0310   (763) 479-8239 or (866) 535-8239
The Great Lakes ADA Center
The Great Lakes ADA Center's mission is to increase awareness and knowledge with the ultimate goal of achieving voluntary compliance with the Americans with Disabilities Act. This is accomplished within targeted audiences through provision of customized training, expert assistance, and dissemination of information developed by various sources, including the federal agencies responsible for enforcement of the ADA. We are not an enforcement or regulatory agency, but a helpful resource supporting the ADA's mission to "make it possible for everyone with a disability to live a life of freedom and equality.
University of Illinois at Chicago Institute on Disability & Human Development (MC 728) 1640 West Roosevelt Road, Room 405 Chicago, IL 60608   (312) 413-1407  
Minnesota Aging and Disability Resource Centers (ADRCs)
Contact the ADRC that serves your county. ADRCs operate under the auspices of the Centers for Medicare and Medicaid Services along with the US Administration on Community Living. ADRCs are devoted to helping senior citizens and disabled individuals receive any and all assistance and support they require.
Minnesota Area Agencies on Aging (AAA)
The AAA offices across Minnesota support elderly individuals and the facilities and groups that serve them. It is an essential resource for the state's aging population. If you need a van you can access with your wheelchair or scooter, contact your local Agency.
Minnesota Department of Veterans Affairs (DVA)
The Minnesota DVA serves veterans and their families, helping them secure all the aid to which they are entitled by Federal and State laws. In cases of a disability resulting from military service or VA care, this often means providing disability grants for handicap vans or accessibility modifications and equipment.
State Veterans Service Building 20 W 12th St, Room 206 St. Paul, MN 55155-2006   (651) 296-2562 or (888) 546-5838    
The Minnesota Governor's Council on Developmental Disabilities (CDD)
This is a prime resource for anyone in Minnesota who has a developmental disability or who lives with someone who does. Among other aid offered by the CDD, it awards grant money to improve life for persons with these conditions and their loved ones.
370 Centennial Office Building 658 Cedar Street St. Paul, MN 55155   (651) 296-4018 or (877) 348-0505
Minnesota Statewide Independent Living Council (SILC)
Minnesota's SILC helps operate the state's Independent Living Centers, informs public policy concerning the elderly and disabled and otherwise supports these people. SILCs, which operate in every state, don't award disability grants, but they can point you in the right directions.
Minnesota System of Technology to Achieve Results (STAR) Program
The STAR Program in Minnesota strives to get assistive technologies to those with disabilities whose lives can benefit from it. STAR gives you access to device loans, exchanges, demos, and a number of helpful resources. Talk to someone here for advice on finding and applying for disability grants to put toward a wheelchair van.
Positively Minnesota
Positively Minnesota provides the state's vocational rehabilitation. If you have a disability and want to become employed, this is a must-contact agency. It will do whatever it can to help you meet this goal, and often that means giving you a disability grant to apply towards a vehicle you can take to work.
Minnesota Department of Employment and Economic Development 1st National Bank Building 332 Minnesota Street, Suite E-200 Saint Paul, MN 55101-1351   (651) 259-7114 or (800) 657-3858
DEED.CustomerService@state.mn.us
These are only some of the resources for Minnesota disability grants and assistance.
If you work with or know of another Minnesota foundation, agency or other organization that belongs on this list, please forward the pertinent information to Chris Miller, Director of Interactive Marketing, cmiller@themobilityresource.com