Visit Charlottesville in Your Wheelchair Van and See How Jefferson Lived
Monticello was the home and main plantation of Thomas Jefferson. Jefferson was the third President of the United States and the author of the Declaration of Independence.
Head to Charlottesville, Virginia in your wheelchair van to see one of America's most important historical sites—Monticello.
Designed by Jefferson himself, Monticello consists of 11,000 square feet of living space and 5000 acres of land, much of which is open to the public.
Some of the brick or gravel paths to the house may be difficult to access, depending on the kind of chair you use.  To be safe, you might want to park your wheelchair van at the visitor center once you reach Charlottesville, then take a shuttle to the house.
Charlottesville, VA Wheelchair Van Trip
The public areas of the house are fully accessible for wheelchairs up to 30" wide.  If you use a scooter or a wheelchair wider than 30" you can rent a smaller chair from the Visitor Center.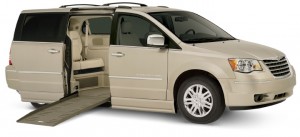 The best and most informative way to make your way through the house is with a guided tour, which lasts about 35 minutes.  Of course, you are welcome to stay inside after the tour and further explore any rooms that you're particularly interested in.  You're likely to be interested in lots of them, since the house reflects unusual architectural details such as alcoves cut into the wall for beds.
In addition to this remarkable house, Monticello also features flower gardens, botanical gardens, vegetable gardens and slave quarters.  The Thomas Jefferson Organization, which owns and runs Monticello, does not try to downplay Jefferson's use of slaves and indentured workers. Visitors can learn quite a bit about Jefferson's slaves and their roles at Monticello.
For much of his career, Jefferson denounced slavery and fought to abolish it. Scholars and historians are still trying to understand the contrast between Jefferson's words and actions regarding slavery.
If you're interested in visiting any of these outdoor spaces, it's a good idea to call ahead to the visitor center and discuss your mobility limitations with them.
The grounds are accessible, but the ease of accessibility will depend on your level of mobility and the type of chair you use.  The staff at Monticello is happy to provide you any personal assistance you need in navigating through the grounds.
If you have transportation issues, click here to contact a Charlottesville wheelchair van dealer to explore more options.
Other Local Areas: