Fold-Out Ramp Handicap Van
How it works:
A dealer in the Mobility Resource network can provide you with a ramp that folds up and stows in the entryway of the passenger-side sliding door. When stowed, it blocks the entry to this door, but still allows visibility through the sliding door window and hides the ramp from outside view.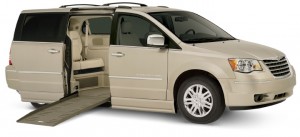 A few benefits:
The fold-out ramp is recommended for anyone in a wheelchair or scooter who will be operating the vehicle alone. If the ramp ever malfunctions, it can easily be deployed to allow easy access into or from the vehicle. A fold-out ramp also provides more headroom than an in-floor ramp for those who sit taller in their wheelchair or scooter.
Find a wheelchair van with a fold-out ramp for sale, near you.
A Look at Fold Out Ramps for Vans
Today, individuals with disabilities have more options than ever for outfitting handicap vans. One of the most popular access options is a fold out ramp for a van. Like all other accessibility equipment, these ramps have their primary benefits, making them an ideal choice.
Compare them to the advantages and disadvantages of in-floor ramps and the various wheelchair and scooter lifts on the market. This will help you decide whether a fold out ramp or a different accessory is best for you, personally. Also, consult your physical therapist or a driving rehabilitation specialist to help determine which equipment is best for you.
Advantages of Fold Out Ramps for Van:
One of the key advantages of a fold out ramp for vans is they work automatically or manually. If your van breaks down and loses power or if there is some mechanical malfunction with the equipment, the ramp is still operational by hand. This ensures the ability to enter and exit no matter what.
The installation process for these ramps is simpler than for in-floor ramps. Because less extensive modifications are required, they are the cheaper option. They also don't take up floor space, stowing upright against the passenger door. Folding ramps are also easier to use along curbs of varying heights. In addition, these ramps stow inside the van (as opposed to in the floor), so they are better protected against corrosion and freezing up.
Who Benefits Most from Fold-Out Ramps for Vans?
Fold out ramps for vans can be operated manually. This makes them a smart pick for people with limited mobility who use their handicap van alone. If you ever drive without taking someone along, you'll feel more secure with a fold-out model. You won't become stranded inside or outside the van should it lose power. In the event of a breakdown, you'll be able to get out to find help, or to get in to wait for assistance without exposure to the elements.
If vehicle modifications are financial stressing, fold-out ramps are generally the most affordable option. This access equipment is also well-suited to taller people in wheelchairs. Because they don't consume floor space for stowing, there is more interior headroom. Folding ramps are also ideal for city living, when parking or pulling over curbside is often necessary. Particularly high curbs sometimes block deployment of in-floor ramps, which have minimal vertical play. A van fold-out ramp, however, readily comes down onto curbs of varying height. If you live in an especially cold or wet climate, interior stowing is another benefit.