Rear-Entry Handicap Van
How it works:
In a rear-entry handicap van, the center of the floor is lowered from the rear hatch to just behind the front seats. This provides a path up the center of the minivan for the wheelchair or scooter. Up to two wheelchairs can be secured inside a rear-entry minivan.
A look inside:
Typically, the two center bucket seats can be left in the vehicle. An aftermarket rear bench seat, which folds up out of the way when needed, can be installed in the rear of the van for additional seating. The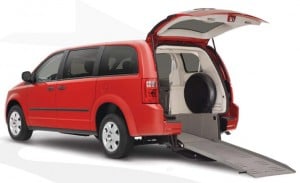 driver and passenger seats are not modified.
Entering and exiting the handicap van:
A rear-entry vehicle gives you access to the vehicle by allowing you to get in and out in a straight line, no turning required.
The rear-entry handicap van eliminates the concern of being blocked in parking lots which occurs when someone parks too close to a handicap parking space on the side of the van where the ramp deploys, effectively blocking vehicle access.
Rear entry minivans also allow vehicle access if you have a narrow garage. The individual in the wheelchair can be positioned next to one or both of the center factory seats, depending on the size of the wheelchair and someone can still sit next to the individual in the wheelchair.
Find a rear-entry handicap van for sale, near you.