Dual Post Split-Platform Lift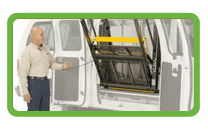 Dual-post split-platform lifts are designed with the strength and stability of a dual-post lift and the visibility of a split-platform lift. The wheelchair lift platform folds horizontally.
Visibility through the entryway window is unobscured, and the wheelchair platform is hidden from outside view when the lift is stowed.