The Lift Up Seat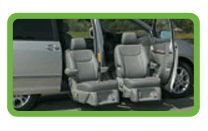 Designed specifically for the popular Toyota Sienna® minivan, the Lift-Up Seat provides easy access to your Sienna. The seat rotates out of the vehicle and lowers toward the ground, eliminating the climbing and twisting normally required to get into the vehicle.
Available in the front-right and mid-right vehicle position, the Lift-Up Seat features a factory Sienna seat with integral shrouding and a flip-up footrest. Fully powered one-button operation with handheld pendant allows the user to stop the system at the ideal transfer height. The integral shrouding and flip-up footrest also complement the interior of the Sienna.
The Lift-Up Seat comes with a three-year warranty and up to $1,000 back through the Toyota Mobility Assistance Reimbursement Program. Click here to contact a dealer and see if you qualify.