100 Ways Moms of Kids with Special Needs Can Take Care of Themselves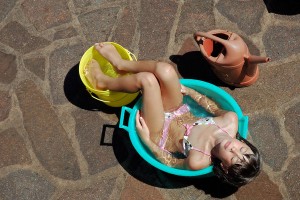 Taking care of other people is just part of being a Mom. For Moms of kiddos with special needs, the amount of care your child needs can become overwhelming, all consuming and exhausting.
It's important to remember in all that care we are providing to others, that sometimes we need to take care of ourselves too. Just like the flight attendant reminds you every time you fly, you need to put on your own oxygen mask before you can assist others. The same principle applies in parenting, when we are drained, frazzled, and generally out of sorts, how are we supposed to manage all the mayhem and confusion our kids throw at us?
So give yourself permission to do something kind for yourself every now and then. If not for your own sake, do it for your kid's sake so that you can be at your best for them.
Realizing that most of us struggle to make time for ourselves, I will present a list of ideas collected from various sources, including from asking Moms of kids with special needs of ways they care for themselves. These ideas vary in how much they cost from free to reasonable to pricey.
They vary in how long they will take from a few minutes to a weekend. And they vary in complexity from super simple (little or no planning), to more complicated ideas that will take some prep work.
Find your perfect Wheelchair Van
Select from thousands of wheelchair vans for sale from hundreds of nationwide dealers
The Mobility Resource has one of the largest selections of Dodge, Toyota, Chrysler, Honda, Ford, Chevrolet wheelchair vans
View All Wheelchair Vans
We need to schedule time into our lives to take care of ourselves. Write a few minutes or an hour of "Mommy Time" on the calendar at least once a week. Actually write it onto the calendar as you would one of your kids appointments and follow through with it.
Some activities are things that you might choose to enjoy with your children, yes, it's still self-care if they come along. If you teach your children to love the same things as you do, you will build special memories together and will have a partner for your activities for years to come. So go ahead, pick something from the list and enjoy. You deserve it!
Try a new hobby.
Get a pedicure.
Go on a weekend retreat.
Enjoy a glass of wine. Or two.
Shop online. Or splurge.
Volunteer.
Get your hair washed and cut.
Go for a walk.
Sew.
Scrapbook.
Read a novel.
Have your nails manicured.
Nap. (either when your kiddo naps, or whenever you can steal a few minutes!)
Get crafty.
Put on makeup and do your hair. Make yourself feel beautiful.
Give yourself a spa treatment.
Go for a drive.
Get up before the crew does and have some alone time.
Stay up later than the crew and enjoy some alone time.
Play a video game.
Listen to an audiobook in the car. (you can use the OverDrive App to download audiobooks to your smart phone from the library for free!)
Invite fun loving grandparents over to play.
Go grocery shopping by yourself. Yes, it can be done.
Go for a bike ride.
Sneak in and hold your little one while they sleep.
Get a massage.
Exercise at home or the gym.
Have lunch with friends.
Watch TV.
Write a poem.
Take three deep breaths.
Meditate.
Listen to a relaxation CD.
Snuggle with your kids.
Enjoy a cup of tea.
Buy a new outfit.
Buy a new pair of shoes.
Skip cooking, order a pizza.
Cook your favorite meal.
Go out to eat at your favorite restaurant.
Call your best friend.
Ask your significant other for a neck massage.
Ask for or accept help from loved ones and take a break.
Go for a swim.
Take a hike.
Sun bathe.
Paint.
Window shop.
Get eight hours of sleep.
Sleep in.
Take a bubble bath.
Star gaze.
Reminisce with loved ones.
Say yes to fast food (every now and then).
Say no to over scheduling yourself.
Do something creative.
Garden.
Listen to music.
Sing.
Dance around the house to your favorite music.
Go out for a date night.
Put the kids to bed early and have date night at home.
Go fishing.
Play pool.
Hang out on social media.
Go to the movies.
Rent a movie.
Chocolate. Enough said.
Schedule a spa day.
Organize a homemade spa day.
Let your kids give you a spa treatment, ignore the mess.
Plan a grown up board game night.
Write in a journal.
Enjoy some water sports.
DVR your favorite show and watch it all by yourself.
Have a beer.
Go out dancing.
Rock out to your favorite music in the car.
Learn about respite care in your area, and use it!
Hug someone you love.
Have your makeup done at the mall.
Go out for ice cream (with or without your kids).
Go for a run.
Skype with friends.
Play with your kids.
Beautify your house.
Enjoy a cup of tea, in a fancy tea cup if you have one handy.
Smile.
Bake something yummy.
Eat that something you baked.
Have a get together with friends.
Relax and be silly (roll down a hill, go on a slip and slide).
Go to the farmer's market and browse, maybe try a fruit or veggie that's new to you.
Ride a roller coaster, go cart or other ride.
Enjoy a sauna or hot tub.
Go out to karaoke night.
Cook something you've never tried before.
Laugh, hard and loud.
Show the kids a movie you loved at their age.
Think positive thoughts.
What did I miss? Please share in the comments below.
Photo credit: photolupi / Foter / CC BY-NC-SA
comments powered by

Disqus