2012 London Paralympics: Fans Send Off U.S. Men's Basketball Team to London
The U.S. Paralympic men's basketball team received an enthusiastic sendoff to London from fans, dignitaries and sponsors at SPIRE Institute in Geneva, Ohio, on Aug. 25.
The Americans received a boost of support and confidence before they began their quest to return to the medal podium after a fourth-place finish at the 2008 Paralympics in Beijing. Team USA won bronze medals in Sydney (2000) and Athens (2004).
The event began with a full-length intrasquad scrimmage, the last on American soil before the team begins training in London. The game was billed as "wheelchair basketball on its highest level," but it was just great basketball, period.
Team USA displayed impressive rebounding, passing, fast-break skills and defense as the White team outscored the Blue team 72-63.
While the players took a break to shower, fans were allowed to take a tour of the SPIRE Institute, a massive, multi-sport training facility. Kids were able to play ball on the court, including children who use wheelchairs.
Find your perfect Wheelchair Van
Select from thousands of wheelchair vans for sale from hundreds of nationwide dealers
The Mobility Resource has one of the largest selections of Dodge, Toyota, Chrysler, Honda, Ford, Chevrolet wheelchair vans
View All Wheelchair Vans
Cavaliers mascots Sir CC and Moondog mingled with the crowd, along with Olympic gold medal-winning swimmer Diana Munz. Fans also got to chat and shoot hoops with the returning players, and the Cavs Scream Team showed off their hip-hop dance moves.
Then it was time for the sendoff rally, hosted by Munz, who said she was so excited about the Paralympic opportunity that awaited the players.
"You guys will be known as Olympians," she said. "There's no such thing as a former Olympian."
Munz introduced a team highlight video and then trainer Mike Carr introduced the players and coaches. Several are graduates of the University of Wisconsin-Whitewater, which has its own wheelchair basketball team.
Team USA head coach Jim Glatch also runs the men's and women's wheelchair basketball teams at Edinboro (Pa.) College.
Ohio Senator Capri Cafaro was on hand to give the players some encouraging words, while Gov. John Kasich sent a video to send the team off.
The Americans enter the Paralympics on the heels of a victory in the BT Paralympic World Cup tournament in May in Manchester, England. Co-captain Will Waller of Hudson, Ohio, talked about his team's chances of more international success on English soil.
"Our success will be a function of how well we play as a team," he said. "I know we're going to that once we get some time to work together over there."
Invacare sponsored the sendoff event. Employee Paul Schulte designs wheelchairs for the company and is a co-captain of the team. He has helped to design some of the players chairs as well.
"The company has been sponsoring me since I was 16 when I played on the junior national team," Schulte said. "I got my mechanical engineering degree and then they hired me to work in their sports division."
Designing wheelchairs for world-class athletes is an "absolute ball," Schulte said.
"It's like working in a candy store, and you get to mess with the recipe yourself," he said. "We're able to bring in a lot of new technology, and we have customize the wheelchair because it has to fit the person right."
After the rally, the players took a group photo with fans outside the SPIRE facility. Then they boarded a bus and got an escort from the Ohio National Guard to Cleveland Hopkins Airport.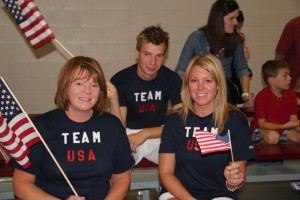 Fans gathered on a bridge in Mentor to wish the team well as the bus passed, and a group of Boy Scouts and Girl Scouts met the team at the airport for a final bon voyage to the Paralympics.
comments powered by

Disqus