2012 London Paralympics: USA Men's Basketball Team Shooting for the Gold
The USA men's wheelchair basketball team must be considered a gold-medal threat at the 2012 Paralympic Games in London.
The Americans will begin the quest for their first gold medal since 1988 on Aug. 30, as they will face Turkey in a Group A game.
Team USA won the bronze medal in Sydney in 2000 before placing fourth in Athens and Beijing in 2004 and 2008, respectively.
The team scrimmaged before a sendoff rally at SPIRE Institute in Geneva, Ohio, on Aug. 25, as they look to build on their victory at the BT Paralympic Cup in Manchester, England.
Paul Schulte, a team co-captain who designed many of his teammates' wheelchairs in his job as an Invacare engineer, said the Paralympic experience keeps getting bigger.
Find your perfect Wheelchair Van
Select from thousands of wheelchair vans for sale from hundreds of nationwide dealers
The Mobility Resource has one of the largest selections of Dodge, Toyota, Chrysler, Honda, Ford, Chevrolet wheelchair vans
View All Wheelchair Vans
"It shocks you," said Schulte, who competed in Beijing. "The opening ceremonies are enormous. To the rest of the world, they take a different approach to the Paralympics. They are televised non-stop."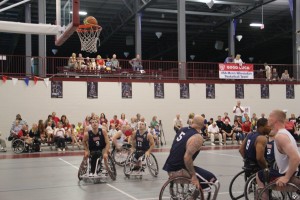 Schulte noted that NBC would be broadcasting the Paralympics for the first time. According to the Denver Post, The NBC Sports Network will have one-hour broadcasts on Sept. 5, 6, 7 and 11 at 7 p.m., while the main NBC broadcast network will air a 90-minute special on Sept. 16 at 2 p.m.
Fans can also keep up with action on the U.S. Paralympics YouTube channel.
"It's awesome to have your country's name on your chest, and this will be a great opportunity to show what we can do," Schulte said.
Head coach Jim Glatch said the Paralympic Cup victory doesn't make the Americans the automatic favorite to win the gold.
"I think it showed what our team is made of," he said, "It was somewhat of a confidence booster. I want us to continue to grow and then we can peak in the medal round."
"We're longer and faster than most of these teams," Glatch added, "so if we can execute on the offensive end, we should be in great shape."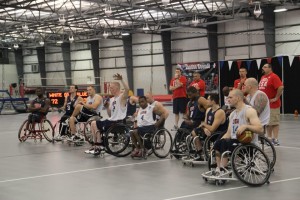 Glatch, who also coaches the men's and women's teams at Edinboro (Pa.) College, said the British and Australian teams haven't shown the Americans much respect in recent years. Their athletes are full-time employees, while the Americans only practice together six times per year.
"The British call us a 'summer team' that gets to the major competition and then chokes," Glatch said. "They're pretty cocky."
"The Australians don't care. They just want us to show up so they can beat us," he added.
Australia won the World Cup in 2010 and the Paralympic gold medal in 2008.
Glatch said he's been collecting opponents' comments as "bulletin-board material" since March, but co-captain Will Waller said competing in the Paralympics is all the American team needs.
"There's an intrinsic motivation to represent ourselves well," Waller said. "All of us are prepared and motivated even without that."
After the opening game against Turkey, the Americans' other Group A opponents will include Italy on Aug. 31, South Africa on Sept. 1, Australia on Sept. 2 and Spain on Sept. 3.
The medal round will consist of the quarterfinals on Sept. 5, the semifinals on Sept. 6 and the gold- and bronze-medal games on Sept. 7.
Please leave an encouragement for the team in the comments, as they will be monitoring our coverage while they are in London.
comments powered by

Disqus