5 Tips To Healthy Holiday Eating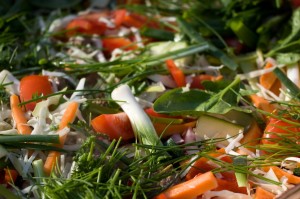 Social events in almost every culture revolve around food. This is especially true during the holiday season. For those of us who are more health-conscious, these food-centered events can be painfully stressful. Here are five steps to help you stay true to yourself and your healthy eating habits throughout the holidays.
Stick with routines – At some point during the holidays, we will all likely succumb to something wickedly tempting at least once. By sticking with your normal routines like morning yoga, taking vitamins or going to the gym, you will have less to beat yourself up over. When you go to bed at night, you can think to yourself, "At least I did one healthy thing today" instead of "I really shouldn't have had whipped cream on that pumpkin spiced chai latte."
Drink water – Staying hydrated is just as important in the winter as it is in the summer. People who are dehydrated tend to have increased headaches, constipation and digestive issues. Do your body a favor and turn down sodas and other caffeine-filled, sugary beverages of the season and give yourself the gift of pure water.
Bring a dish – Don't just offer to bring a dish to the luncheon or dinner party, insist on it. Most hosts or hostesses will appreciate having one less thing to do. Plus, this way you'll know there will be at least one thing on the table that meets your dietary requirements. Soups, stews and casseroles are good choices because they can be a complete meal in themselves.
Find your perfect Wheelchair Van
Select from thousands of wheelchair vans for sale from hundreds of nationwide dealers
The Mobility Resource has one of the largest selections of Dodge, Toyota, Chrysler, Honda, Ford, Chevrolet wheelchair vans
View All Wheelchair Vans
Be gentle with yourself – The holidays are very stressful for many folks. Don't make it harder on yourself than it already is. If you are going to your big Italian family's carb-feast and can't risk making Grandma upset by bringing your hippie food, then don't. Instead, before you go, have a fiber- and nutrient-dense smoothie. Adding chia seeds to your smoothie will help keep you satiated so you won't feel like overindulging. Then, go ahead and enjoy some ravioli and cannoli with your family!
Game night – If navigating a holiday meal with friends and family is just too much for you to deal with, but you still want to enjoy the festivities of the season, do something different. Host the after-dinner entertainment! Board games, cards, music, dried fruits, nuts, seeds, crackers, dark chocolate and bottomless cups of tea combined with good company can be a jolly good time for all.
comments powered by

Disqus