6 Things Caregivers Of People With Disabilities Should Never Forget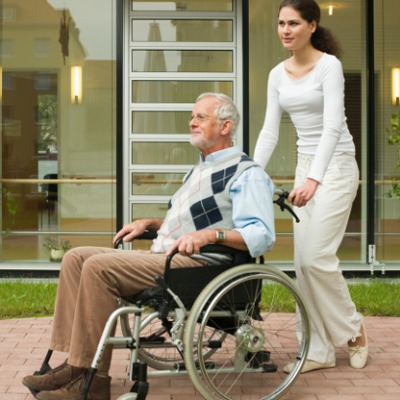 Without my caregivers, my day-to-day world would not exist. They're my guardian angels. They swoop in day and night to help. And boy do they work hard. From lifting my 118 pound dead-weight bum up into my bed after a shower (slippery skin and all) to moving heavy furniture around and cleaning up cat puke for the thousandth time, this job is not easy.
This is why caregivers need to arm themselves with as much knowledge as possible. Knowledge to make sure they're able to do their job as long as they would like, without pain and emotional stress. Here's my advice to the caregivers of the world on how to be happy in your job indefinitely.
1) Don't burn yourself out.
One of the biggest no-no's caregivers do is take on too many clients, or simply take on too many hours. It sounds great so I can see why they do it – woo a ton of extra money coming in – but it usually ends up burning you out, leaving you feeling like you don't even want to work at all (and I've seen many walk away from the field).
Find your perfect Wheelchair Van
Select from thousands of wheelchair vans for sale from hundreds of nationwide dealers
The Mobility Resource has one of the largest selections of Dodge, Toyota, Chrysler, Honda, Ford, Chevrolet wheelchair vans
View All Wheelchair Vans
If you're proactive in making sure you have plenty of work however and don't overdo it, you can rest-assured you'll be a happy caregiver for a very long time. Always make sure you schedule "me time" everyday too, whether it's tea and reading your favorite book or catching up on your favorite TV show.
2) You can't do it all.
This rule is an important one. For a lot of caregivers, many think working double shifts isn't going to affect them. Again, the money is very enticing, so many give it a try. But doing doubles on a regular basis will start to wear on you. Instead, having a break to look forward to is huge. This means no double shifts unless absolutely necessary. Mentally, it'll keep you in the caregiver game much longer too, giving you proper rest.
3) It takes time to learn a routine.
Another thing to keep in mind is that it takes awhile to learn someone else's routine. For all my new caregivers, I always let them know I don't expect them to remember everything right away and that it takes at least 6 – 10 shifts to get the hang of it. They love it when I tell them this, too, since many start out feeling nervous and want to be perfect. Be easy on yourself, I always tell them. New routines take awhile to learn.
4) Make a list (and check it twice).
For clients that require a lot of care, or just have a routine with a lot of steps involved, making a list of what needs to be taken care of each shift is a fabulous tool to help you remember. As the client, I always make my own list for my caregivers – what needs to be done that day, food to prep, appoints to visit, etc – but not every client is as OCD as me. If you're worried you may forget an important step, just make a list.
5) Backup is essential.
As a caregiver, you always want to make sure you have other caregivers to call (hired by the agency or your client) in case of an emergency. This really helps with stress-levels that can sometimes get the best of you in this job. Knowing you have someone you can call in a pinch is priceless. Ask your client for the numbers of their other caregivers so you can call them in a pinch.
6) Treat your back (and body) with TLC.
Above all things, always make sure you're vigilant about your back's long-term health. As a caregiver, you're going to be doing a lot of heavy lifting even if your client has a Hoyer lift. It just comes with the territory. And this is why you have to be careful – you're only born with one back so make sure you treat it right. Lifting with your legs is probably one of the best things you can do long-term, as well as keeping weight close to you as you lift.
By 2020, caregiving is on pace to be one of the most in-demand jobs in the country, with the need of caregivers projected to double. This means you'll never have to worry about job security again. Pretty swell deal.
If you do plan on staying in the caregiving world for a long-time, just remember that being vigilant about your physical and mental health is key. If you can stick to that, a very happy job future awaits.
What advice do you have for new caregivers?
comments powered by

Disqus