8-Year-Old Jaiden Rogers Battles Mysterious Skin-to-Stone Illness With Grace, Gets National Spotlight (Video)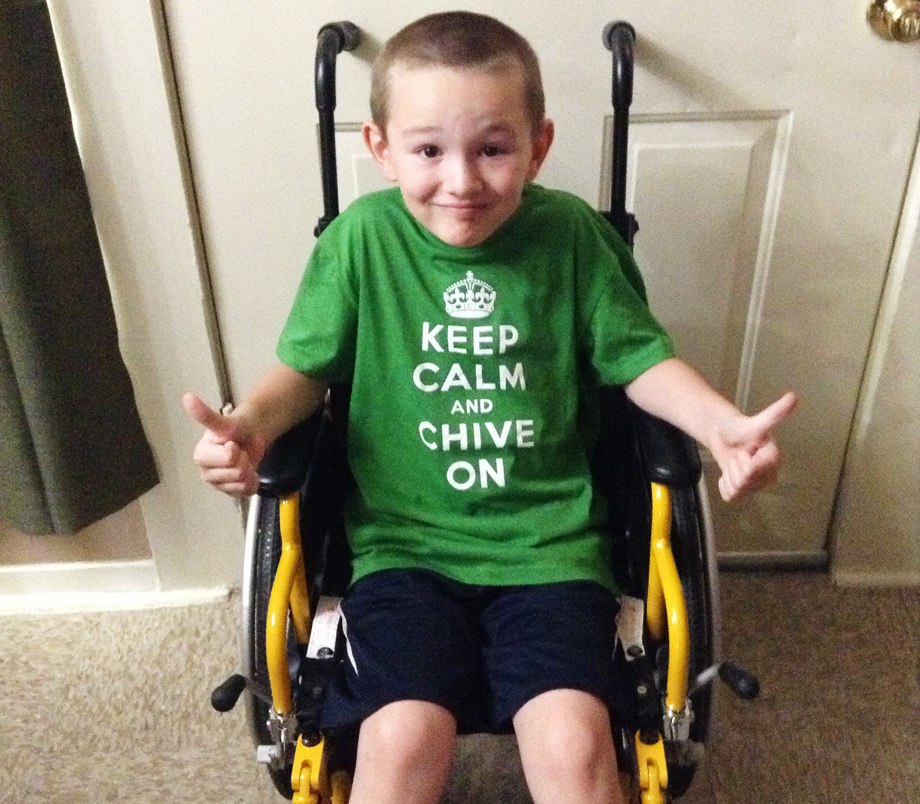 They say you never know what's coming next in life, and that certainly was the case when Natalie and Tim Rogers from Alamosa, Colorado adopted Jaiden Rogers when he was 2-years-old. Born with fetal alcohol syndrome and neglected as a child, he was rescued by the Rogers family; a family that had already adapted two children 20 years ago who were now adults.
About two and a half years ago, however, their lives suddenly changed when Jaiden began having mysterious hard areas on his skin. The first area appeared on his thigh, with the skin being hard and painful. His mother Natalie decided to bring him to the doctor who eventually did a biopsy, and it was discovered that he had a very rare condition called Stiff Skin Disease, and was just the 41st person to have it.
Characterized by the muscles directly beneath the skin becoming calcified, doctors have no idea what causes this condition and there is no cure; only palliative treatments to slow the condition and therapies to help keep his limbs as limber as possible. Chemotherapy is used to break up and slow the calcification, while routine physical therapy is required several times a week.
When Jaiden was first diagnosed, his mobility was good, but the progression of the disease has unfortunately been stronger than most cases. Many people with Stiff Skin syndrome are able to remain ambulatory until adulthood, but Jaiden now must use wheelchair regularly. He will have good days and can still walk short distances, but overall a wheelchair is required for him to get around.
This of course has posed a problem for him accessing things like school and going out. Despite the ADA, not every school district is blessed with a bus with a lift or the money to purchase one, so Jaiden is forced to be home schooled. No 8-year-old boy however should be stranded at home from school. Previously an outgoing kid, Jaiden has become introverted as his condition has gotten worse. Not going to school certainly hasn't helped.
Find your perfect Wheelchair Van
Select from thousands of wheelchair vans for sale from hundreds of nationwide dealers
The Mobility Resource has one of the largest selections of Dodge, Toyota, Chrysler, Honda, Ford, Chevrolet wheelchair vans
View All Wheelchair Vans
That is why one of the most tear-inducing stories you'll hear all month needed to happen. On Wednesday, after being alerted to Jaiden's story by the Chive Charities (a nonprofit that helps raise money for families in need), The Doctors TV show along with BraunAbility and Ride-Away (one of the largest retailers of adaptive vans), pooled together their funds to donate an adapted minivan to the Rogers family.
The Chive Charities also helped raise $80,000 for the family to help them build a badly needed at-home physical therapy spa (hot water is one of the best things that helps the pain naturally), which included a heated covered pool with specialized heating and a wheelchair ramp encased in a separate building on the family's property.
The episode with the family receiving the van aired this past Wednesday, and boy were they surprised. At $50,000 or more, an adapted van purchase can change lives but for many the cost is just too great and they learn to go without.
Now because of his new van, Jaiden can start going back to school a few times a week, and hopefully begin to feel like a regular student just like everyone else. And let's hope doctors can find a treatment for Stiff Skin disease sometime in Jaiden's lifetime. It's heartbreaking seeing a child's body rebel against them before reaching adulthood.
Learn more: Stiff Skin Syndrome
Do you know anyone with Stiff Skin syndrome?
comments powered by

Disqus