9 Foods To Seduce Your Lover, Because Healthy Is Sexy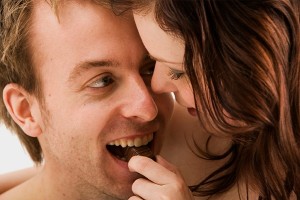 There are indigenous foods and spices that inspire cultures all over the world. Alliances between different cultures were formed because of the desire for different types of foods and spices – they were one of the first forms of currency.
Social events revolve around, or at least incorporate, food. People love food and it's ok! While obesity is rapidly becoming an epidemic, this does not mean we need to sacrifice the sweet and sensual pleasure of enjoying decadent foods. We just need to make healthy choices and practice moderation. Below is a list of foods that have historically been revered as conducive to sexual pleasure and have since been proven to contribute to optimal health and wellbeing.
1) Sweet Potato
In Europe, it wasn't until the end of the 16th century that a distinction was made between 'potatoes' and 'sweet potatoes'. Although when Europeans were first acquainted with the sweet potato it was considered an exotic, aphrodisiac. It is commonly believed that Shakespeare made mention of this notion in his 1602 comedic publication, 'The Merry Wives Of Windsor' with the line "Let the sky rain potatoes." This sweet and colorful vegetable is available in different shades of orange and purple, though the orange variety is more common. Both are rich in calcium, magnesium, vitamin C, D, and B6. Some experts claim that to maintain the highest nutrient value of sweet potatoes is to steam or bake them. These methods of cooking help maintain some of the sweet potato's naturally occurring digestive enzymes.
2) Almonds
Throughout history, almonds have been a symbol of love, passion, and fertility. It has been said that the French writer, Alexandre Dumas, would dine on almond soup before meeting with his lover to boost his virility. More recently though, it has been discovered that almonds are very rich in vitamin E, calcium, and magnesium. Today, almond milk is readily available at most grocery stores, which provides an additional means of incorporating almonds into our diets. It's also an excellent, BGH-free, dairy alternative.
3) Maple Syrup
This sweet nectar derived from maple trees, is an often-overlooked aphrodisiac. It contains an abundance of zinc that is imperative for achieving the ultimate orgasm.
4) Chia Seeds
This ancient super-food was a staple for the Mayan's. Chia seeds are efficient in keeping the body hydrated. Also, they contain an abundance of calcium and zinc, which makes them excellent in maintaining stamina.
5) Apples
These sweet temptresses are noted in the Bible for contributing to the demise of the Garden of Eden, because Eve found one to be irresistible. In Ancient Greece, it was customary to toss apples near the bride to encourage sexual desire thus ensuring the consummation of marriage. Also, the American Association of Cancer Research agrees that these thin-skinned fruits are loaded with detoxifying and cancer fighting properties.
6) Bananas
These are quite possibly one of the world's most phallic foods. For centuries, bananas have been included in Indian offerings to the fertility Gods. Their aphrodisiac properties are likely attributed to their high amounts of potassium and B vitamins.
7) Cinnamon
This spice induces heat within the body, promoting sexual desire. Proverbs 7 mentions the use of cinnamon to perfume a bed in preparation for lovemaking. This spice has also been found to contain anti-inflammatory, anti-oxidant, and anti-bacterial properties, while aiding in the stabilization of blood sugar.
8) Nutmeg
Nutmeg has been used as an aphrodisiac throughout history in India and parts of Europe. More recently though, researchers at the Muslim University in Algarh, India have found evidence that nutmeg does increase the libido.
9) Vanilla
The name of this sweet smelling spice that has been seducing lovers since antiquity, is derived from the Latin word meaning "sheath." It was given its name by the perverse Conquistadors who believed the pods of vanilla bean resembled a woman's vagina. Vanilla is also full of antioxidants and aids in relieving anxiety.
Here is a smoothie recipe that incorporates all nine of the sensual ingredients listed above. Enjoy it with someone you love–or at least someone you wouldn't mind getting naked with.
1 large sweet potato, cooked, unpeeled and cooled
1 golden delicious apple, halved and seeded
1 teaspoon pure vanilla extract
Using a Vitamix, add ingredients in the order they are listed above. Start at Variable 1 while quickly increasing to 10. Then flip to High. Use tamper. Blend for about 40 to 60 seconds.
In a more standard blender, cut the fruit up in small pieces and add the ice post blending.
Image Source: http://dailydelights.sheknows.com/articles/823957/top-5-aphrodisiac-foods
comments powered by

Disqus