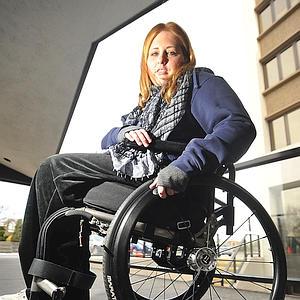 Everyone loves stories about the underdog. I mean, what's not to love? Every day there are examples of people who persevere, who adapt to life in incredible ways and who approach life with positivity, focus and a passion to go out and accomplish their dreams.
We make heroes of these people and we rightfully so, but what we don't do is acknowledge the needless barriers that keep some people with severe disabilities from accomplishing these things regardless of their attitude, their skills or their ability. After all, if a building isn't wheelchair accessible no amount of moxie or positive thinking will get a wheelchair user independently to their destination.
That's where I've noticed a difference in how I've been treated as a person with a disability when I compare myself against those I know who use both manual and power wheelchairs. I've always gotten around on crutches. I can navigate stairs and even if it's more difficult for me I can usually get to wherever I need to go. I'm often praised for this like it's a great feat. People compliment me on how easily I seem to get around on crutches and on how well I've overcome my disability. It's as if some people think that I just worked harder and that's why I don't have to use a wheelchair.
The truth is I'm just fortunate and by society's loose accessibility standards I'm pretty easy to accommodate because I can mostly walk. Did I work out to accomplish this? Not really. Am I hero just because I can do it? Not at all. But, I can access some places where others with disabilities are not able to go. It's a situation that isn't fair. In fact, I think it's a form of passive discrimination.
Unfortunately, the problem is too many people don't see it that way. These types of people are not bad folks. In fact, most of the time they don't even realize that their mindset is discriminatory. For them, they think it's a good human service to help a person with a disability by lifting their chair up some stairs or by bringing them the microphone when stairs block the podium. Acts of human kindness are good, so they think permanently putting a person with a disability in the position where they always require assistance is ok. After all, there's always someone who can help and it's really not a big deal right?
A great example of this type of thinking recently played itself out in the local news where I live in Calgary. A 17-year-old boy was about to graduate high school and had applied and been accepted into a specialized biology program thousands of miles away in Ottawa. However, the young man also happened to have muscular dystrophy and required the assistance of a 24 hour health care aide to help him with daily activities. For him, this scenario is just a reality that shouldn't reflect on his potential or his personal skills and in a perfect world it wouldn't. In fact, judging from a distance I could clearly see that he didn't allow his disability to affect him in this way.
However, his keen intellect, his great ambition and his personal goals couldn't do anything about the fact this his health care provider does not allow out-of-province funding for a 24 hour health care aid. Sure, there are schools in his home city and province that are wheelchair accessible but none offer the program specifically available at Carleton. So, this young man was then faced with the decision to either completely give up on his biology dream as he'd envisioned it or do some other kind of schooling in Alberta where requirements of his health care provider could be met. How disappointing it must be to truly want to be more educated, independent and employable yet to be told your academic desires and ambitions can't be met because of a bureaucratic funding issue.
It upsets me that because my knees bend and my leg braces prop me up that I can therefore have greater access in society because I don't cost too much to support. I'm not an inspirational go-getter or a hero. I'm just lucky enough to be able to evade the majority of society's quietly constructed and reinforced barriers? Would a good attitude and a confident personality change the sad reality that we still can't construct public environments that are able to accommodate all our citizens? Accessibility laws and regulations in Canada and in the United States need to be revised to stop the needless barriers that extinguish human potential.
Find your perfect Wheelchair Van
Select from thousands of wheelchair vans for sale from hundreds of nationwide dealers
The Mobility Resource has one of the largest selections of Dodge, Toyota, Chrysler, Honda, Ford, Chevrolet wheelchair vans
View All Wheelchair Vans