Access is a Civil Right — Even in Prison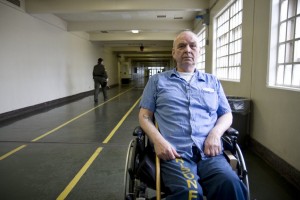 People with disabilities have the civil and legal right to full and equal access. We should be able to go wherever anyone else can go – even if that is prison.
Face it – people with disabilities find themselves in correctional facilities, whether they are there visiting relatives or loved ones, volunteering or are there for a crime that they've committed.
As a disability rights activist, I hear many complaints from people around the nation regarding access. Some of the worst cases I hear of are about people with disabilities serving time in jails and prisons. As an ADAPT member who has been arrested 118 times in 27 years for non-violent offenses, I've seen the inside of a few jails in different parts of the country and have personal experience with inaccessibility. The stories that I could tell would make a calm person scream.
Imagine sitting in your wheelchair outside the local jail while cops figure out how to get you inside because the only entrance is up several stairs.
Imagine having to protest while in jail because you couldn't get a medical exam, attendant services or access to the life saving medication that you must take several times a day. That happened to us while we were in Nevada and Florida. Thankfully, our group was together. Imagine trying to do that alone and ignored.
Can you imagine being blind and having your cane taken away, then, locked away in solitary confinement for 15 days of your twenty-five day sentence simply because of your disability? That happened to me.
Correction and detention centers fall under Title II of the Americans with Disabilities Act; in addition to the physical location, they are required to make their programs, services and activities accessible to all inmates. These services, activities and programs include fingerprinting, initial medical exams, classification hearings, drug treatment programs, educational programs, as well as access to phones, visitation rooms, dining halls, libraries, recreation areas, commissary, cells, bunks, toilets, etc. Unfortunately, this often falls far short of the mark.
In many correctional facilities people's mobility and other devices are taken from them, even when doing so could lead to serious injury or is potentially life-threatening. It is common for those needing assistance with eating, dressing, showering or toileting to either go without, or be forced to rely on other inmates to help with these tasks, putting them at risk of exploitation or violence.
Blind and visually impaired prisoners are often denied access to materials in accessible format, including audio books, large print and Braille, even though these can be obtained at no cost to the facility through the Library of Congress. Inmates who are deaf have no access to accessible phone equipment and are often denied interpreters for important hearings, medical exams, groups and educational programs. Some people are denied important medications such as insulin, seizure meds or medications to treat mental health conditions.
Some facilities, as a standard operating procedure, segregate inmates with disabilities, housing them in the infirmary under the mistaken belief that housing them there will solve access needs. However, this is in violation of the ADA's requirement that all services are to be provided in the most integrated setting. The vast majority of disabled prisoners don't need permanent placement in the infirmary, which cuts them off from contact with fellow inmates and vital programs and activities.
While some correctional facilities and jurisdictions have formed ADA panels consisting of law enforcement, inmates and community members in order to correct problems and insure access, most have not, either because it has never occurred to the administration to do so, or it is felt that due to the low number of disabled inmates in, or visitors to their facility, that the issue isn't important.
No matter how one feels about the morality of millions of Americans being locked up, access is a civil right even in prison.
photo credit: prisonmovement.wordpress.org
comments powered by

Disqus