Accessible Housing: A Social Problem On The Rise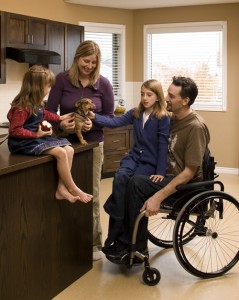 Accessible housing is becoming a larger issue with each passing year. As larger demographics of people in North America continue to age, their mobility needs also change. This is making it more important for public and private buildings everywhere to be fully accessible so that people can fully participate at home at work and at play. The United States has the Americans with Disabilities Act (ADA) to help set a standard and to try and effectively enforce it for the benefit of all people with disabilities.
Unfortunately, in Canada where I live, no piece of legislation like the ADA currently exists and in the city of Calgary where I live only 3 percent of all affordable housing is also wheelchair accessible. This presents a pretty serious problem in Calgary because more than a million people live here and 1 in every 10 of them self-identifies as an individual with limited mobility. To make matters worse, among the homeless, who are the most vulnerable it has been found that one in every four of these people also has some kind of mobility limitation.
The problem isn't going away either. Calgary currently is experiencing one of the highest population growth spurts of any city in North America. That has resulted in just a 1 percent vacancy rate in rental accommodations where the average monthly rent has also risen by 7percent in the last year. All of this amounts to an extreme scarcity in the number of accessible homes available for people with disabilities to rent or own and I'm sure my city isn't the only one facing these sorts of problems.
Finding an accessible place to live and work is only part of the problem. If only three percent of all homes are wheelchair accessible, how do you socialize with anyone? What do you do when you want to apply for a job with a company you're really excited about only to find that the home or the office building isn't built to accommodate wheelchairs? Unfortunately, for a lot of people in Canada it simply means you can't visit certain people or work in certain businesses. It's a form of segregation and it's still alive and well today.
For many people it comes down to economics. Especially when it comes to making their own homes more accessible. Even though, there are some government grant programs available to improve accessibility it's still quite a bit more expensive to renovate an existing home. Most contractors estimate that it costs close to 20 percent of a home's value just to renovate it properly for full wheelchair accessibility.
Find your perfect Wheelchair Van
Select from thousands of wheelchair vans for sale from hundreds of nationwide dealers
The Mobility Resource has one of the largest selections of Dodge, Toyota, Chrysler, Honda, Ford, Chevrolet wheelchair vans
View All Wheelchair Vans
The key is to build accessible homes and workplaces right in the construction phase before the selling of spaces even begins. Studies have shown that when this work is done beforehand, the overall value of the home from the start can show a value increase of 1 to 3 percent. Doing the job right in the beginning clearly is a benefit that pays off for everyone in the long haul. After all, anyone can live, work or play in a fully accessible space. It just takes a society willing to consider everyone who has disabilities and those who may someday acquire them before they begin construction.
Photo Credit: (From the Accessible Housing Society website www.ahscalgary.ca)
comments powered by

Disqus