Adaptive Travels: How to Make Your Next Adventure Inclusive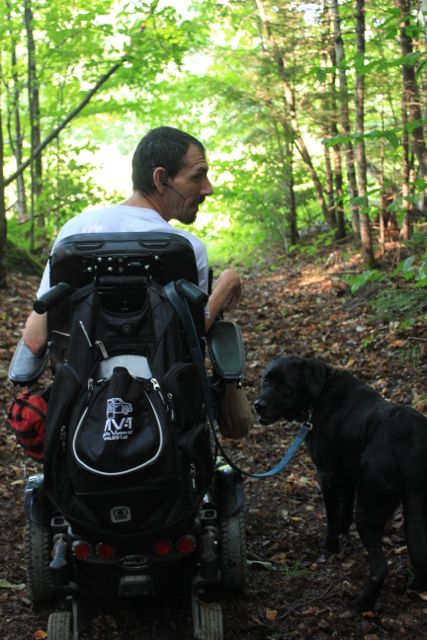 Disability doesn't have to stop you from experiencing the depth of life or from missing out of life's adventures.
We learned this when my wife and I travelled to Hatteras Island in the Outer Banks for our fifth year anniversary, where we huddled about in our accessible rental house while 10-foot waves crashed over the roads as a hurricane and Nor'ester converged over our heads. Evacuated off the island by ferry, we drove through flooded waters. When Megan saw the car battery light shine, she began freaking out. I began laughing, "Do you want to turn back?"
There was no going back, only venturing forward.
In more recent times, we took off for an adventure of a lifetime in the White Mountains of New Hampshire. We spent our summer vacation driving, sight seeing, hiking, and blazing new paths through the woods.
Find your perfect Wheelchair Van
Select from thousands of wheelchair vans for sale from hundreds of nationwide dealers
The Mobility Resource has one of the largest selections of Dodge, Toyota, Chrysler, Honda, Ford, Chevrolet wheelchair vans
View All Wheelchair Vans
Inclusive hiking has been in the news recently with a man with Spina Bifida who climed Mount Washington in New Hampshire and a 21-year-old South African become the first female quadriplegic to reach Kilimanjaro.
Here are some tips to make your next off-road adventure full of wild fun!
1. Plan and be ready to throw out your plans.
For people of all abilities, planning logistics is an essential aspect of making sure you have everything you need. But life will throw in something unexpected, so be ready to adapt to your environment.
For weeks we spent time planning our driving routes, looking at how long it would take to drive and planning our stopping points, which included booking an inclusive camping spot in the Shenandoah Valley. However, dense fog in the Blue Ridge Mountains hampered our ability to make camp where we planned, and we had to adapt quickly.
2. The Fun of Blazing New Trails
There are times when I stay on the path, and other times when I must find my own way. True to the way I live my life, the trail is never the traditional road.
In looking for a trailhead, we found ourselves in the middle of a raspberry field, and I had to navigate through mud and around rocks dispersed through our path. I'm not one to back away from an adventure, and that meant strategizing about how to get around and looking for the best way through.
3. The Path Others Have Gone Before
While people with disabilities often have to blaze their own paths, sometimes the route others have taken provides more solid footing.
When my motor wheelchair had given all the juice it had to navigate through the woods, I needed to give it a break. We found the path used for snowmobiles in the winter, and what used to be an old railroad track. Since the path had been used so much more in recent times, it provided easy navigation. We walked for miles, and it still felt like we were out in the elements.
4. Using accessible hiking trails and camp sites
There are many resources that rate hiking trails, mountain paths, camp sites, and beach access based on accessibility levels.
Before we left for the New Hampshire mountains, we researched accessible hiking trails and put together one or two day trips we could do on our own. Having a few hiking paths in our back pocket that were vetted by others gave me the opportunity to experience creeks, gorges, and waterfalls up close.
As a person who loves the outdoors, our adventure in the mountains gave me ample time to be in my element, where I feel most alive. People with disabilities are told most of our lives what we can't do. Planning an excursion outside builds self-confidence and empowerment to take back to the grind of daily life.
What's your next adventure?
comments powered by

Disqus