America Loves Their Wheels In Any Form–But Why So Often Do They Forget About Wheelchairs?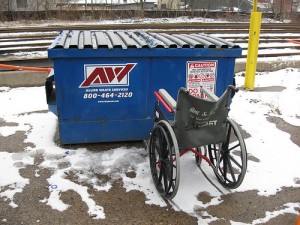 Here in America, we love our wheels.
From shiny new cars and luggage, to motorcycles and RV's. Let's not forget beloved NASCAR.
If we can put wheels on it, we will.
The obsession with wheels to make everything in the world bigger, better and more bad-asser by just adding, that's right, wheels to the mix, is limitless.
But why is it that a wheelchair is left out of the awesomeness and glory that we praise?
Find your perfect Wheelchair Van
Select from thousands of wheelchair vans for sale from hundreds of nationwide dealers
The Mobility Resource has one of the largest selections of Dodge, Toyota, Chrysler, Honda, Ford, Chevrolet wheelchair vans
View All Wheelchair Vans
As someone who uses a wheelchair, I get a lot of pity for my "situation."
People feel sorry for me that I can't walk like them–and that's even more frustrating.
In America, society runs shallow and narrow-minded. While America celebrates a new product that just added a 'wheel feature,' wheelchair-users are essentially condemned.
People who have mobility limitations are often snubbed by our very own wheel-obsessed culture. I just don't get it.
On paper, a car in the driveway is absolutely no different than my wheelchair.
Both allow a user of the device to be in a seated position while a propulsion system transports said user from point A to point B. So why do mobility device users get left out in the cold? Is it really just the aesthetics of a wheelchair?
This style of thinking needs to change.
Instead of feeling sorry for the necessity of my chair, why don't we support and celebrate this day in age that we have solutions to some of our limitations. And that my wheelchair is a pretty awesome feat of our own societal doing. When the point of personal transportation is actuality at it's peak embodied in this wheelchair that you can't help but feel sorry for me.
comments powered by

Disqus