Angela Hunter provides 'Example' as Ms. Wheelchair Ohio 2012
Wooster native prepares to try for Ms. Wheelchair America crown
As she travels around the Buckeye State in her wheelchair van, Ms. Wheelchair Ohio Angela Hunter is spreading the message: "Live Life; Be An Example."
She spoke at the 2012 Ohio Wheelchair Games banquet on June 23.
"I find that I make the biggest impact in my everyday activities," she told the athletes. "I can be the best example and a reason for change when I live my everyday life."
"You are an example of how inclusion and acceptance make the world a better place," she added.
Hunter, a native of Wooster, began using a wheelchair at age 16 after she broke her neck in a car accident.
Find your perfect Wheelchair Van
Select from thousands of wheelchair vans for sale from hundreds of nationwide dealers
The Mobility Resource has one of the largest selections of Dodge, Toyota, Chrysler, Honda, Ford, Chevrolet wheelchair vans
View All Wheelchair Vans
She learned about the Ms. Wheelchair Ohio pageant from Melissa Milinovich, her friend from Wright State University, who was Ms. Wheelchair Ohio in 2005.
Hunter finished third in 2011 before winning the 2012 crown on March 17. She will compete for the title of Ms. Wheelchair America from Aug. 6 to 12 in Providence, R.I.
Ms. Wheelchair is not a beauty pageant but a competition to determine who would be the best advocate for the people who use wheelchairs.
Volunteer work is a factor, and Hunter said she was also helped by her knowledge of the Americans with Disabilities Act.
"It's a good thing I knew it was signed in 1990 by President (George H.W.) Bush," she said.
The Ms. Wheelchair Ohio pageant started in Columbus in 1972, just one year after the Ohio Wheelchair Games. The winner must be a resident of the state between the ages of 21 and 60 who uses a wheelchair or scooter for mobility full-time.
Since winning the crown, Hunter has been traveling all over the state.
"I've spent a lot of time working with the Adaptive Sports Program of Ohio in the northern part of the state, and I've also volunteered with Ohio State University Agricultural Technical Institute and attended an event at Troutman Vineyards," she said.
Her future schedule includes the Ashland Balloonfest and a Muscular Dystrophy Association camp in Cincinnati.
She chose "Live Life: Be An Example" as her platform because "I was noticing that when I gave speeches, people would sometimes seem bored, but when I was interacting with people, they would listen more to what I have to say."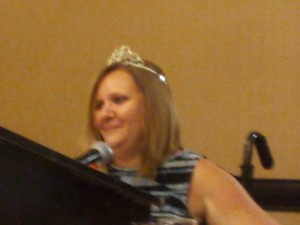 The people who listen the closest to Hunter are children, who are fascinated with the aspects of her everyday life that seem mundane to her.
"They are amazing and so impressive," she said. "They ask me 'How do you eat? 'How do you go to bed?' That plays into my platform, and I have the most fun with them."
Although big cities have made progress in serving the needs of those with disabilities, Hunter said that smaller cities, like her hometown of Wooster, still have a ways to go.
"We still don't have accessible taxis and public transportation," she said. "People who don't have their own vehicles have to rely on hospital transportation, and they can only use it for doctor's appointments."
Hunter hopes that her reign as Ms. Wheelchair Ohio will make a difference "in one person's life or 100. I love hearing that I've gotten through to someone, and I would love someone to say, 'now I know I can speak out and be stronger.'"
Jennifer Gorman contributed to this report. Follow us on Twitter @JeffDGorman.
comments powered by

Disqus