Arizona Diamondbacks Plan Future with Paralyzed Outfielder Cory Hahn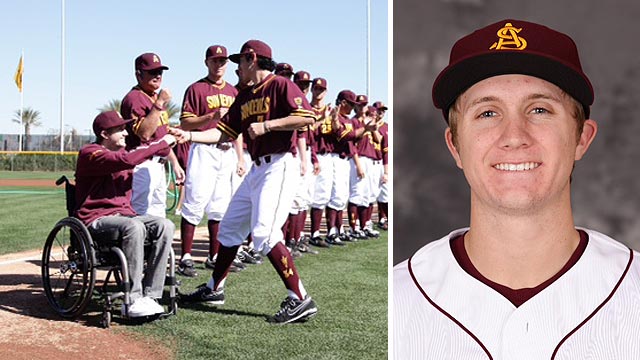 Cory Hahn has fulfilled his boyhood dream of joining a Major League baseball team. Not even paralysis could stop him.
Hahn was hurt in a freak accident on the baseball field; it's something you won't see again if you watch baseball for the rest of your life.
In only his third game for Arizona State University in 2011, Hahn was stealing second base, and the catcher's throw was off-line. The second baseman lunged for the ball and his knee smashed into Hahn's head, jerking his neck backward.
Hahn was paralyzed from the chest down with spinal cord damage and a fracture of the C-5 vertebra in his neck, according to MLB.com.
Find your perfect Wheelchair Van
Select from thousands of wheelchair vans for sale from hundreds of nationwide dealers
The Mobility Resource has one of the largest selections of Dodge, Toyota, Chrysler, Honda, Ford, Chevrolet wheelchair vans
View All Wheelchair Vans
After his accident, Hahn worked his way back to point where he could resume his college courseload and serve as a student coach. The Diamondbacks drafted Hahn in the 34th round on June 8.
"I cannot thank the Diamondbacks enough for what they have done!" Hahn said on Twitter. "So honored to be a Diamondback."
Hahn, a native of Corona, Calif., played outfield on Team USA's 18-and-under national team in 2009. He was also named Mr. Baseball after the 2010 season at Mater Dei High School, where he hit .411.
The San Diego Padres had drafted Hahn in Round 26 of the 2010 draft before he opted to play college ball with the Sun Devils.
Diamondbacks president and CEO Derrick Hall phoned into the draft to make the selection.
"It was a very emotional selection for us to make," Hall said on the Diamondbacks website. "When (scouting director) Ray Montgomery and his staff came up with the idea and presented it to me, it was a no-brainer."
"It's not about us. It's really about Cory and his family. I was able to spend time with them right after the injury in the hospital room and he's a wonderful kid."
Hall told Hahn that he could work with the Diamondbacks during his final year at ASU before taking a position in scouting or baseball operations after graduation, according to USA Today.
"He's got such a good baseball mind, and he's such a motivational story. It just makes sense," Hall said.
comments powered by

Disqus