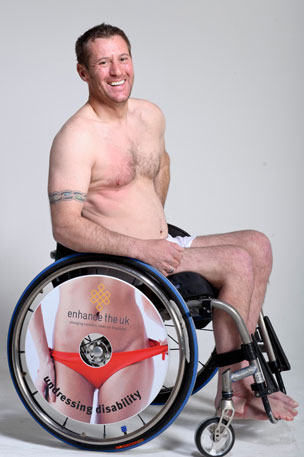 This post was originally found at BBC News and examines disabilities in dating, just in time for Valentine's Day. The charity Scope created a campaign called Kiss Awkward Goodbye where people submitted their own awkward dating stories to minimize confusion people may have when dating someone with a disability.
Andy Tollope (pictured) gives a candid look at dating and sex in the following paragraphs.
"I'm not in a relationship at the moment. I was paralysed from the chest down in 2009 after a motorcycle racing accident and, after four months in hospital, I returned home and asked my long-term girlfriend to marry me. She agreed but six weeks later called me at work to say she was leaving. She found it too hard to deal with.
I spent quite a few nights looking at the bottom of a whisky bottle but picked myself up and started to go out. I was 36 at the time, and when I started to go out, I found I had no problem getting female attention. I went to crowded nightclubs and bars in my wheelchair and women often asked to sit on my lap because there were no chairs. My mates were saying that they had to get a wheelchair because it was like a "babe magnet" and has probably been one of the best pulling tools I've had.
Girls weren't worried about my disability. You'd get home and there were awkward moments about sex – I'd use Viagra but it didn't really work on top of alcohol so my specialist gave me an injection which gives me an erection for two or three hours. One time I missed my penis and stuck it in my little finger which I couldn't move for a while.
See Also: 10 Misconceptions About Sex and Disability
I've got a catheter coming out of my stomach, a couple of inches below my belly button. It has certainly been a talking point. When I've taken someone home it has sometimes caused a problem, but most women tell me the wheelchair didn't bother them so a tube certainly isn't going to.
I have used a dating site. To me my main profile image looks like I'm in a wheelchair but I always put at least one picture up that makes it really obvious. The responses weren't too satisfactory and in the end I put up a message which clearly says: "Yes I'm in a wheelchair, yes I've dealt with it, message me if you're interested." Although I can see that loads of people have viewed my profile, I've had a few online chats but nothing that has led to going out with someone.
I couldn't tell you when my last date was – maybe a year ago? In that time I've spent four months in bed with a terrible pressure sore. I was able to use my computer in bed, and on another website invited women round to my house explaining I'm on bed rest. I've had first dates by my bedside – I've said: "I'll leave the front door open just give us a knock, I'm upstairs." There's a certain element of trust involved on both sides, because you don't know who you're meeting. We've ended up having a take-away, a chat and I've asked them to go down and get a bottle of wine out of my fridge."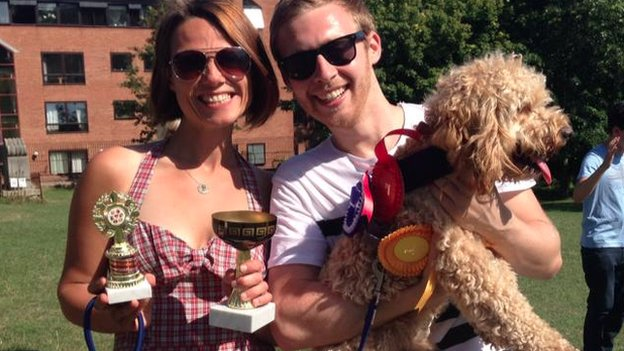 Jennie Williams who has degenerative hearing loss also tells her awkward dating story. Note: Jennie is now happy with boyfriend Jonno (pictured).
"I have degenerative hearing loss and for communicating I wear two hearing aids, which I rely on a lot.
The public tend to get confused about what hard-of-hearing actually means. It is mostly associated with older people, so I get comments like: "Oh yeah, my nan wears a hearing aid, we shout at her." And the always amusing: "I think she has selective hearing. Chuckle, chuckle."
There can be some real perks to dating someone with a hearing impairment – such as cheap or free tickets, and a lot of us can lip read conversations from quite a way off, meaning I can share gossip about things other people were never meant to know about.
But dating someone with hearing loss can cause awkwardness at times. When you are getting down to things and having a good old snog, the last thing you want is your hearing aids giving a loud feedback whistle – as they do – every time the man puts his fingers through your hair. And then your aids could end up flying out of your ears onto the floor, and the dog could run in and eat one of them. That's actually a true story – and it rather killed the moment.
Let me tell you about one of my most awkward dates. I was single, living in London and looking for a boyfriend, so I did what all single Londoners do – I joined a dating site. I started chatting to a guy and we had a bit of banter via email.
We arranged to meet up on the South Bank and, as I left the Tube station on the day, I was greeted by the man I'd been speaking to – a cute detective who even looked like his photos.
We got on one of the boats moored on the river, had a drink and chatted about work. I went to take out my lip gloss to top up and out fell both of my hearing aid batteries at the same time. They are really small and my date – who I'd named Gov because of his job – asked what they power. I explained my hearing loss and I got the rather surprising response: "Why do deaf people do 'this'?" He then put on the offensive act of waving hands in the air, scrunching his face, putting tongue in lower lip and making groaning sounds. Oh dear.
I thought about throwing my drink in his face but it would have been a waste, so I explained about British Sign Language and the importance of the culture behind it. I don't think he got it all but he was embarrassed and didn't know what to say.
Instead he offered to take me for a ride on his motorbike around London and then buy me dinner. I am very shallow."
Jennie Williams runs the Love Lounge which offers relationship and sex advice to disabled people.
Story and Photos Courtesy of: BBC News, Damon Rose and Kathleen Hawkins
Find your perfect Wheelchair Van
Select from thousands of wheelchair vans for sale from hundreds of nationwide dealers
The Mobility Resource has one of the largest selections of Dodge, Toyota, Chrysler, Honda, Ford, Chevrolet wheelchair vans
View All Wheelchair Vans