Doctors Gave Her Six Months To Live. 13 Years Later, We Interviewed Her.
In BECOMING WARRIOR WOMAN: My Journey Through Three Cancers author Kathleen Statham shares exactly that, her journey through three different cancer diagnoses. After reading the cancer memoir I felt privileged to interview Statham and gather additional insights from her.
Kathleen Statham survived breast cancer only a short while later to face cervical cancer. That too she defeated. The big c however appeared ready to claim Statham's life when she received a dire diagnosis, stomach cancer and six months to live.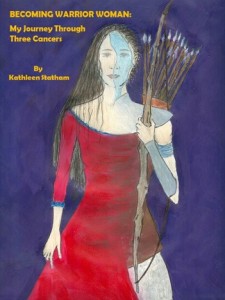 At this point BECOMING WARRIOR WOMAN: My Journey Through Three Cancers becomes completely gripping, a book difficult to break from. Inept medical care from doctors leads to heated discussions and confrontations between the two parties, the doctors and the Stathams (Kathleen and her husband Ed). Reading about these events led me to think "This is something anyone who encountered poor medical care could rally around."
Statham confirmed my notion. "People have said to me 'You know I really wish I said that to my doctor.' Or, 'I hadn't thought of it that way but boy the book really solidifies some of the thoughts trying to emerge in me.'"
Now BECOMING WARRIOR WOMAN: My Journey Through Three Cancers doesn't promote senseless confrontation or confrontation for confrontation sake. Rather Statham's memoir provides a spark for bioethical debate. Statham echoed her written sentiments during our interview.
Find your perfect Wheelchair Van
Select from thousands of wheelchair vans for sale from hundreds of nationwide dealers
The Mobility Resource has one of the largest selections of Dodge, Toyota, Chrysler, Honda, Ford, Chevrolet wheelchair vans
View All Wheelchair Vans
"A lot of people feel doctors are not to be faulted. Doctors certainly are not meant to be confronted. I'm afraid the danger of that is one can sit back and become passive, even if one feels frustrated or has a lot of questions on their minds."
"Danger" stands a perfect word choice. Interviewing Kathleen Statham involved a specific wow factor demonstrating such danger. I expressed to Statham how if she didn't defy her doctors our interview would never have taken place because she would be dead. She responded.
"(You're right) 12 years would not have passed. It's been 12 years or 13 now since I got that diagnosis of six months to live and here I am! That's certainly a testimony to why one really does need to bring it all to one's inner thinking."
She continued by emphasizing the importance in questioning doctors. "The only way to bring it all is have all the facts to consider and weigh, is if you get all the answers you possibly can. That means asking questions and that means sometimes second guessing your doctors."
While my review here concentrates on bioethical issues Statham raises, BECOMING WARRIOR WOMAN: My Journey Through Three Cancers offers a lot more. The book provides useful insights which could improve cancer patient-care giver relationships, especially with familial care givers. Additionally BECOMING WARRIOR WOMAN: My Journey Through Three Cancers transcends the cancer topic to represent an overall story about inner strength. Ultimately, I highly recommend the read.
BECOMING WARRIOR WOMAN: My Journey Through Three Cancers remains available on the Kindle and Nook. Kathleen Statham also shares her empowering message through public speaking. If interested in bringing her in, send an email to kathleenstatham –AT- gmail.com.
comments powered by

Disqus