Book Review: 'Let Me Get This Off My Chest' By Margaret Lesh
Recently an opportunity arose allowing me to interview author Margaret Lesh. In her book Let Me Get This Off My Chest, Lesh details her experiences overcoming breast cancer twice. Yes, twice.
When my superior asked me to both interview Margaret Lesh and review Let Me Get This Off My Chest I honestly felt tempted to pass along the assignment to a female TMR writer. After all I figured a woman could relate to the topic a lot more than me.
Thankfully I resisted the aforementioned temptation, opting instead to purchase and read Lesh's book on my Kindle.
Let Me Get This Off My Chest provides an entertaining read bound to assist others going through breast cancer, both women and their loved ones. Lesh illustrated this point when talking about some feedback she received.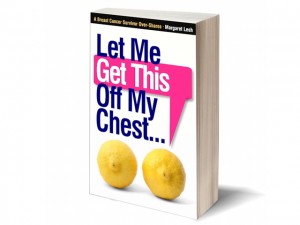 "One of my male friends who read it told me that his wife's friend was just diagnosed recently with breast cancer and he didn't know what to say to her (the wife's friend). So he said he appreciated reading that in the book. When I talk about reaching out to someone who has got the diagnosis (chapter titled 'What to Say to Someone with Breast Cancer')."
Lesh's wisdom, whether the insights making up each chapter or tips located at some chapters' ends, serves as a way Let Me Get This Off My Chest will directly help women diagnosed. During our interview Lesh acknowledged the immense power words hold.
"You never know what little thing you say is going to make a difference for someone else. Sometimes it is just the littlest things too." She gives an example mentioning specialized post-mastectomy bras. "Like that bra with the little holders for the drains, you know the Velcro attachments. That was magical. It was just ergonomic. It took this thing that's not pleasant and just made it so much more manageable."
Now Let Me Get This Off My Chest also contains appeal beyond the breast cancer community. The way Lesh keeps a humorous tone while writing on something so serious creates an engaging and entertaining read.
Plus a human element exists. You will probably find at least one situation or interaction you can relate to. I explained to Lesh how she describes her emotional reaction to her initial breast cancer diagnosis caused me to reflect back on getting diagnosed with Scheuermann's disease at 13 years old.
She sees such connections important to society. "I think that we can never really stop learning about other people and their challenges because I think it's really helpful to know what people go through in their daily lives."
Overall I am confident many people could find comfort and enrichment by reading Let Me Get This Off My Chest. Pick up Let Me Get This Off My Chest (available in paperback and e-book form) by visiting Amazon or Barnes & Noble. For more on Margaret Lesh visit www.margaretlesh.com.
comments powered by

Disqus