Born without Legs: No Obstacle for Aerialist Jen Bricker
Although I was seated in the balcony, the first thing I noticed was her enormous brown eyes. She is truly stunning. As she made her way across the stage, I realized she is quite small in stature. But it wasn't until she grabbed these long, flowing pieces of fabric that hung from the ceiling, and starting swinging and spinning herself through the air, that I realized the reason this lovely lady is so short is because she has no legs!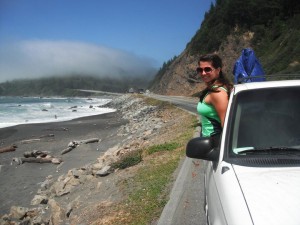 After the show I had the delightful opportunity to meet this interesting woman. Her name is Jen Bricker and her personality is equally as enchanting as her appearance.
I had the pleasure of seeing her perform at a "Dancing Wheels" production held at the Allen Theatre in downtown, Cleveland. Jen was performing Heidi Latsky's "If" with Franklin Polk.
It is often assumed that legs are a requirement to be an acrobat, aerialist, to roller skate or even drive a wheelchair accessible car. However, Jen proves these assumptions are erroneous.
It's a mesmerizing learning experience to watch her gracefully launch into the air with aerialist silks, and to hear her childhood stories of roller-skating on her hands and taking driver's-ed with her peers (using car hand controls). Her fearless sense of adventure, confidence and independent nature are much more significant than her lack of lower appendages.
Find your perfect Wheelchair Van
Select from thousands of wheelchair vans for sale from hundreds of nationwide dealers
The Mobility Resource has one of the largest selections of Dodge, Toyota, Chrysler, Honda, Ford, Chevrolet wheelchair vans
View All Wheelchair Vans
Jen's positive outlook on life, which she attributes to her supportive family, has provided her with many exciting opportunities. During my recent chat with Jen, she had just returned from performing in Dubai. Aside of the job she went there to do, she had three personal goals on her agenda; riding a camel, getting a henna tattoo and riding four-wheelers across the sand dunes. Not only did she accomplish her complete list of goals but she also learned to scuba-dive! Before Jen leaves for her second visit to perform in Dubai, she will be presenting at The 2013 Pacific Rim International Conference on Disabilities, which will be held on April 29 and 30, 2013 at the Hawai'i Convention Center.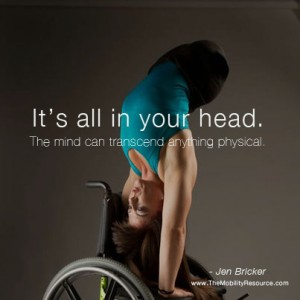 Someday in the near future, Jen may be using her role-model status to empower children with disabilities by providing an animated character they can relate to. Artists behind the popular "My Little Pony" cartoon created, in Jen's likeness, "Smilez." She said, "It's really cool seeing yourself as a pony."
Jen is also an advocate for the Adoption Network. The loving and supportive family which she never tires of praising, is a family who made the conscious choice to adopt a baby girl with no legs who's challenges and prognosis was uncertain.
The Adoption Network was instrumental in helping Jen reconnect with her biological siblings who she now shares mutually fulfilling relationships with. Recently Jen and her biological sister, Dominique Moceanu, were Keynote Speakers for the Adoption Network Conference in Cleveland, Ohio. She says that adoption is so important to her that she plans to be an adoptive parent one day herself.
Play the video below to hear Jen's inspiring message!
comments powered by

Disqus