Burning the Road: Brakes, Rotors, and Wheels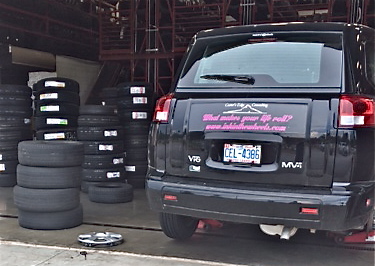 Over the summer, we took our MV-1 for a weekend road trip through the mountains of Asheville, North Carolina. Hopping onto the Blue Ridge Parkway, we wound our way through peaks and valleys.
On the way back, we decided to take a detour, descending more than 2,000 feet to make our way back to the city.
On that last slope, we could smell the rubber burning. And we knew we needed to replace our rear rotors.
Here are facts you need to know to keep you on the road:
While auto makers claim that tires can last up to 50,000 miles, tires may begin to wear out at 20,000 miles due to weight, road conditions, and wear.
Evaluate tread depth. If you see tread that is worn smooth, even on the side, it is time to change out your tires. By the book, that means 1/16th inch tread.
Keep tires inflated, and check inflation levels, especially during cold weather.
Consider the weight of accessible equipment. Motor wheelchairs can weigh up to 300 pounds. This may mean rotating the tires every time the oil is changed.
When you rotate your tires, be sure rotors are inspected. Metal on metal braking can become a heavy repair if not taken care of properly.
Check and top off fluids such as break fluid. Renew your brake fluid, especially if you are driving an older vehicle.
Stopping at high speeds. Accessible vehicles may take more brake power to stop, particularly if there is heavy equipment such as a motor wheelchair. Stopping at high speeds wears the brake pads down faster and lessons the life of rotors. Look far enough ahead to give plenty of space to slow down.
Modifications can be made for adaptive equipment to accelerate and brake effectively, such as pedal extensions. Speak to a mobility specialist to see what modifications may work for you.
An accessible vehicle's wheels keep you on the road. The weight of accessible equipment can put more wear and tear on them, so keeping your tires in tip top shape will prolong the life of your vehicle.
Find your perfect Wheelchair Van
Select from thousands of wheelchair vans for sale from hundreds of nationwide dealers
The Mobility Resource has one of the largest selections of Dodge, Toyota, Chrysler, Honda, Ford, Chevrolet wheelchair vans
View All Wheelchair Vans
comments powered by

Disqus