COLUMBUS, Ohio (TMR) – Helping people with disabilities find jobs and educational opportunities was a major focus of the 2012 National Forum on Disability Issues on Sept. 28 at the Hyatt Regency.
Neither President Barack Obama nor Mitt Romney attended the forum, but Ted Kennedy Jr. and U.S. Rep. Cathy McMorris Rodgers (R-Wash) represented the candidates. John McCain appeared four years earlier via satellite at the first forum.
Each speaker discussed disability-related issues for 10-minutes before answering questions from the moderator, former CNN White House Correspondent Frank Sesno.
Before the representatives spoke, President Obama delivered a taped message to the disabled community, which comprises one in five Americans.
"You are part of the tradition of diversity of who we are as a country," the president said.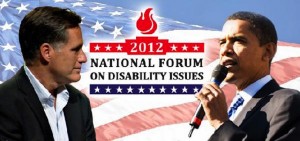 "We need to work to increase employment opportunities, housing and community support."
Rodgers and Kennedy each had a personal connection to the disabled community. Rodgers has a 5-year-old son with Down Syndrome.
"Our lives changed in the best way," Rodgers said. "Cole has made me a better person and a better legislator."
Kennedy's aunt, Eunice Kennedy Shriver, founded the Special Olympics, and Kennedy himself lost his leg to bone cancer at the age of 12.
"I'm proud to be a person with a disability," Kennedy said. "President Obama understands our movement as a civil rights movement. When we talk about being housed and transported in separate institutions, he knows what we mean."
Kennedy, a lawyer who works on disability-related issues, lauded Rodgers for her own work in Congress on behalf of the disabled but slammed Romney over his "47 percent" comments.
"It's wrong not to care about 47 percent of the people and tell them you're on your own, Kennedy said. "President Obama's slogan of moving forward includes every American, including those with disabilities."
Kennedy said that Romney advocated a plan similar to the Affordable Care Act ("Obamacare") as the governor of Massachusetts but now wants to take Obama's plan and "kill it dead."
"I met a 17-year-old young woman who lost her leg to bone cancer like me, but thanks to Barack Obama, she won't have to worry about insurance denying her pre-existing condition. They can't impose a lifetime cap on her, and they can't drop her."
Kennedy also said Republicans would prevent the Department of Justice from enforcing the requirement to have lifts in hotel swimming pools, "just like this one [at the Hyatt]."
Sesno asked Kennedy what if states failed to cooperate with Obamacare, "because many states disagree profoundly with its direction."
Sesno also asked Kennedy why Obama's recent employment legislation did not include disabled workers. Kennedy replied that the president had added 100,000 federal government jobs for disabled workers on the 20th anniversary of the American's With Disabilities Act.
"We're the only group who wants to pay more in taxes, am I right," Kennedy said.
Kennedy also noted that Obama had directed $1 billion into the "Money Follows the Person" plan to provide more direct-care workers, as opposed to having people in nursing homes.
"When you hear 'Medicaid block grants,' you automatically think 'cap," he said. "That's basically what happens. It saves money in Washington. That's it."
Rodgers said government efforts like the ADA and the Individuals with Disabilities Education Act (IDEA) have allowed disabled people to make progress, "many have not realized the full promise intended by these laws."
She said the government programs are not streamlined in a way that makes them easy to use.
"A child is diagnosed with autism and a soldier returns from the war without a limb, and their families are thrown in the mud and told to swim," she said.
"It's not a lack of desire or a failure of intent," she said. "There is just a bewildering array of programs at cross purposes with each other. Some of these programs started before ADA. It's like going to the moon in a Model T."
Rodgers said the government has a 'paternalistic' attitude toward the disabled and an attitude of can't, not can.
"We need to look at the disabled as an untapped pool of talent," she said. "We need to move beyond curb cuts and wheelchair ramps to investments in people with disabilities."
Rodgers praised a Walgreen's drug store in Wisconsin with a universal-design floor plan and a 50-percent disabled work force that has shown impressive productivity.
"Rather than fearing disability, Walgreen's is embracing ability," she said.
She also gave kudos to Wal-Mart for situating essential items in the front of the store at a level that shoppers who use wheelchairs can reach.
"I know Mitt Romney and I know that he lives these values," Rodgers said. "He has the business acumen to turn this country around."
She also said that Ann Romney, who has multiple sclerosis, would be a 'champion of the disabled community' as First Lady.
Rodgers also said that if Obamacare were repealed, the Republicans could "do better and start over."
She also said that Romney's plan to administer Medicaid funds through block grants to the states would "focus Medicaid on home and community programs."
Both candidates were asked what disability-related question they would ask Romney and Obama if they were moderating the candidates' Oct. 3 debate.
"What is your orientation toward disabled people?" Kennedy asked. "Is it one of civil rights, pity and fear, or we have to take care of those people?"
Rodgers said she would ask, "How can we open the doors of opportunity so the disabled can be employed, thinking beyond traditional jobs?"
Before closing the forum, Sesno said he hoped that in four years, both presidential candidates would appear live at the forum.
Stephanie Deible, who is Ms. Wheelchair Michigan and attended the forum, agreed.
"I enjoyed it, but I'm disappointed that the candidates couldn't make time to be there," she said. "They were both in the state this week; I can't see why they couldn't make time since it was scheduled on Friday."
"I would have liked to hear them talk more about employment opportunities," Deible added, since it's such a big problem in this country, especially in the disabled community."
This article was written by Jeff Gorman, content producer for The Mobility Resource and BraunAbility handicap vans.
If you attended forum or watched the live webcast, what did you think of the content of the forum? Which speaker was more impressive?
Find your perfect Wheelchair Van
Select from thousands of wheelchair vans for sale from hundreds of nationwide dealers
The Mobility Resource has one of the largest selections of Dodge, Toyota, Chrysler, Honda, Ford, Chevrolet wheelchair vans
View All Wheelchair Vans