Car Hand Controls for Continuing Mobility
Being in a wheelchair doesn't necessarily rule out driving. Retaining or regaining the ability to drive helps maintain independence. Car hand controls, otherwise known as adaptive driving controls, often make this possible. A vehicle is outfitted with accessible, easy-to-use controls operated by hand. These controls work the gas, brakes and other aspects of driving. They make driving possible for many people whose physical disabilities would otherwise exclude it.
About Car Hand Controls
Some vehicles are sold or leased with installed adaptive driving controls. These controls can also be added to standard vehicles. They are compatible with most cars, wagons, pick-up trucks, minivans, vans, sports utility vehicles (SUVs) and crossover models. Some types of car hand controls aren't compatible with all these auto styles, though.
Hand controls permit single-handed operation of driving functions, leaving the other hand free to steer. Primary controls operate the gas and brakes. Then there are secondary controls. These work other functions, like the windshield wipers, radio, horn, defoggers and temperature controls. An adapted vehicle can usually be operated in the standard way, as well. However, advanced drive-by-wire systems eliminate this possibility. Controls can also be transferred to a different vehicle in most instances.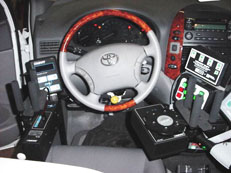 Two Types of Car Hand Controls
The first category of car hand controls are mechanical controls. These include levers, handles and pivot points. Simple pushing, pulling, turning and twisting motions operate the vehicle. There are also power-supported controls. These controls are more advanced. They make operating a vehicle even easier. Electric, hydraulic or pneumatic controls eliminate resistance and reduce the physical effort needed.
Find your perfect Wheelchair Van
Select from thousands of wheelchair vans for sale from hundreds of nationwide dealers
The Mobility Resource has one of the largest selections of Dodge, Toyota, Chrysler, Honda, Ford, Chevrolet wheelchair vans
View All Wheelchair Vans
Are you interested in adding car hand controls to your or a loved ones vehicle? If so, its imperative to first consult a Certified Driver Rehabilitation Specialist (CDRS). These trained professionals evaluate a person's ability to drive. They make recommendations for the exact type of car hand controls that are best suited to the individual. A CDRS is the appropriate place to direct questions about your situation.
comments powered by

Disqus