Caring for Handicap Vans in the Heat
Regular maintenance is important to keeping handicap vans running safely and efficiently. To protect and preserve your van as well as possible, extra care is needed during extreme weather. Heat poses a variety of threats to your vehicle. A few measures prevent hot weather from taking an undue toll on your ride. They also minimize the risk of overheating and breakdowns on the road.
Heat Affects Tires, Batteries and Air Conditioners in Handicap Vans
Three parts of handicapped vans experience the most risks during hot weather: tires, batteries and air conditioning units. If you can't check your tire pressure, ask a friend or family member to. Read pressure in the morning or at night, when tires are coolest. Inspect tires for worn spots, bubbles or other imperfections. These can cause blowouts when tires expand in the heat. Heat, dryness and dustiness all sap a battery's life by 50 percent or more. Have your battery's power and fluid levels checked periodically during the summer. Replace dying batteries promptly.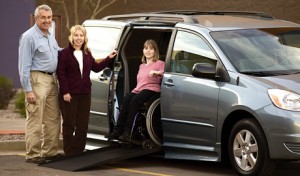 Running your air conditioner adds to overheating risks. The unit can have problems of its own in the heat, too. Inappropriate levels of Freon are always a concern. Leaks in the system can cause considerable damage, as well. Have the air conditioning unit checked out at least once or twice during the summer.
Other Hot Weather Concerns with Handicapped Vans
Have your oil changed and fluid levels (coolant, antifreeze, etc.) checked at the onset of summer heat. Filters should be looked at, too. Get these checks again as the summer draws to an end. Inspect windshield wipers for cracks or hardened rubber. If they don't function properly during a summer thunderstorm, you may lose visibility while driving.
Find your perfect Wheelchair Van
Select from thousands of wheelchair vans for sale from hundreds of nationwide dealers
The Mobility Resource has one of the largest selections of Dodge, Toyota, Chrysler, Honda, Ford, Chevrolet wheelchair vans
View All Wheelchair Vans
There are a few other smart ways to care for handicapped vans during hot weather. Because leaks are a threat, have your pressure system checked. Check for worn or cracking hoses and belts. If you're driving and notice your temperature gauge rising, stop using the air conditioner and turn on the heat, opening the windows. This is especially useful if you're stuck in heavy traffic. The discomfort beats a breakdown, particularly for people with limited mobility.
comments powered by

Disqus