Comprehending Disability Employment Trends
Through different initiatives, Kessler Foundation, a public charity, aims to better spotlight disability employment issues. One such initiative involves putting together the monthly National Trends in Disability Employment (NTIDE) report, a task Kessler Foundation does in partnership with the Institute of Disability at University of New Hampshire.
To learn more about Kessler Foundation's efforts, The Mobility Resource recently caught up with Kessler Foundation's Senior Vice President Elaine Katz, the Foundation's Director of Disability and Employment Research John O'Neill, PhD, and Associate Professor of Economics at University of New Hampshire's Institute on Disability Andrew Houtenville, PhD.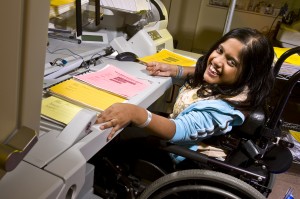 Advocating for the Disability Community
Katz explained, "Part of what we are doing at Kessler Foundation between the National Trends in Disability Employment report as well as our grant making is to try and increase awareness that people with disabilities can be a viable part of the workforce. People with disabilities need to be included in diversity efforts when you look at hiring."
Regarding NTIDE, Houtenville noted a difference between their report and other disability statistics. "A lot of the statistics you'll see come out around disability include individuals age 64 plus, but ours is customized. It focuses on the population aged 16-64 (working age)." Houtenville pointed out that focusing on working age avoids "Getting into a population of people that are aging into disability."
Find your perfect Wheelchair Van
Select from thousands of wheelchair vans for sale from hundreds of nationwide dealers
The Mobility Resource has one of the largest selections of Dodge, Toyota, Chrysler, Honda, Ford, Chevrolet wheelchair vans
View All Wheelchair Vans
Establishing a Resource
Houtenville admitted, "It's not entirely sexy to talk about statistics." Yet he stressed the importance. "It's important to have this representation of people with disabilities." Although mainstream platforms like Bloomberg and CNN don't recognize NTIDE currently, Houtenville remains committed. "Someday it's going to be there. Until then, to be a regular resource month after month after month after month – it gives a voice to the situation."
Katz acknowledged, "Sometimes reports and numbers come out and they're not picked up, especially with disability issues. So to get in front of the media, get the attention of hiring managers at corporations so they know people with disabilities are valued employees, and are a part of diversity initiatives. That's what our focus is on the grant making side."
Disability Employment and Recession
NTIDE indicates the economic recession affected workers with disabilities more than their able-bodied counterparts. O'Neill gave one reason why: "With the population with disabilities, the proportion that stops trying to find work can be a large number because people, particularly during recessions, they lose their jobs. They had a nicely crafted job. There is no other job like that in the economy, so they go on social security disability and stop looking for work."
Katz emphasized that while frustration can lead those with disabilities to drop out of the workforce, the majority want to work. "People with disabilities typically want to work, but they don't always find the right opportunities. There are barriers. Sometimes it is transportation, sometimes education, training, and skills. But once the match is made, typically they are able to do as well in a job as any other employee."
Once the right circumstances emerge, Katz said, "They (workers with disabilities) find they are able to add to the bottom line of a corporation. They become just as integrated and well valued as other employees the corporation hires."
To learn more about Kessler Foundation visit www.kesslerfoundation.org.
comments powered by

Disqus