Courage: The Key Ingredient for Inclusion
There I stood, it was three days before our wedding, and my knees were quivering with trepidation as I peered beyond the edge of my walker and down the makeshift ramp my friends had put together. After only fifteen minutes of the rehearsal, all I could think is, "How ever will I be able to survive an hour long ceremony on my feet? Never mind walk my amazing bride out of the church after the ceremony."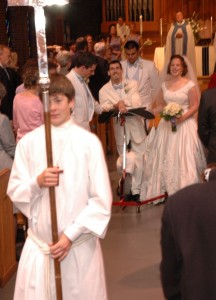 I glanced down at the pew and caught sight of an extremely doubtful family member, their eyes revealing the disapproval seeping from their mind. I felt the twinge of guilt pull at my heart, yet what was there to be shameful of? For a man with severe spastic Cerebral Palsy, the notion of standing, let alone walking was nearly laughable, or so I had been taught.
Yet, a year and a half before the wedding, I was faced with a test, of sorts, that would require me to redefine the core of my very identity. A martial arts teacher of mine with whom I had been working closely to complete an intense form of one-on-one training had informed me that for my final test, I would be required to stand and take several steps without assistance.
At the time, there was no possible way I could have known how deeply entrenched this notion of disability had come to define what I believed as possible. The process forced me to dive inward while simultaneously expanding outward to move past every perceived limitation I had.
Find your perfect Wheelchair Van
Select from thousands of wheelchair vans for sale from hundreds of nationwide dealers
The Mobility Resource has one of the largest selections of Dodge, Toyota, Chrysler, Honda, Ford, Chevrolet wheelchair vans
View All Wheelchair Vans
Thoughts from who on earth would ever marry someone with a disability to I'll never be able to take care of her, how I can I be a husband or a father, and even to the core, what if I fail?
Peeling away layer after layer, the courage required me to face fear moment by moment, and day-by-day proved to be far more intense than any aspect of physical exercise that the task demanded. By the time I was ready to complete what had become a rite of passage, the actual experience of standing and walking paled in comparison to the sense of liberation I felt within.
And yet, I soon learned that bringing forth this confidence within and community of supporters was vastly different from expressing the same level of courage amidst those who still clung to old perceptions of who I was.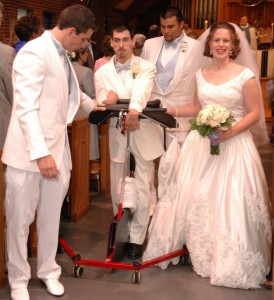 Indeed, the true test of my ability to stand, both physically and metaphorically, had yet to occur. Not until a year later, having chosen to stand side by side with my bride did I finally recognize that my transformation had nothing to do with physical ability to stand or walk, but instead, was about the capacity to show up authentically, and express who I was regardless of other's opinions or beliefs.
And there I was, the night of our rehearsal having wiped away what I thought was the sum of all my fears, and yet looking out into the audience, and glimpsing the disapproving expression on my relative's face, I felt the years of impossibility returning to nip at my heels. I was faced with a choice.
How easy it would have been to stumble, listening to those incessant voices I knew so well. I inhaled deeply stretching my feet to the earth and my head upward to the sky. Exhaling, I let everything go as one foot released and fell forward followed by the other. I found my rhythm, breath, and feet moving as one as the phantom fears vanished into a renewed trust in myself.
Certainly, we all have these moments of insight that shift our fundamental mode of operation. Often, they come to us quietly like the process of simply opening a window to let in a summer breeze. These realizations changes how we view ourselves and our relation to the world, no matter how they appear to others.
For me, these transitions are an ongoing source of renewal and vitality. They seem to come perennially during the least expected moments, and foster an ever-deepening understanding of the human experience. Over time, they have also proven to be a key source of courage and, to the extent I can express these insights in my daily life, offer the tools to bring people together from various backgrounds and perspectives.
Being courageous, no matter how large or small sets the people around you at ease, and in some ways draws them to you. Often, it is from their own curiosity, whether they understand why they are curious or not.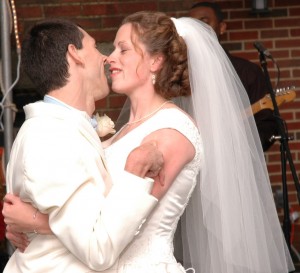 When our wedding day finally arrived, and my groomsmen assisted me, walker and all up to the alter, I noticed a nearly audible gasp from family and friend who had no idea what Megan and I had been planning. Yet, even more palpable was the unified sense of awe that engulfed the church as Megan and I stood arm in arm and walked down the center aisle carried jointly by our love at the close of the ceremony.
Our wedding wasn't just about us anymore, instead, we looked out and saw a sea of people who, once strangers to one another, had now grown close to one another in a way that far surpassed their support of us as a married couple.
As we approach our 9th wedding anniversary in November, I realize that with each passing day we spend together, our courage and support of one another deepens, not simply for ourselves, but for others. Each time we share our ability to face life courageously, we challenge and call people to join us in embracing their own passion and inspire them to follow their dreams, where ever they may lead.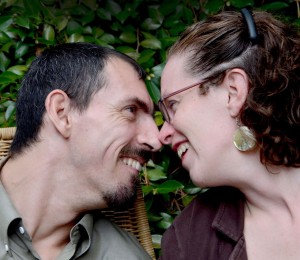 comments powered by

Disqus