Creating Better Community and Natural Support Systems for People with Disabilities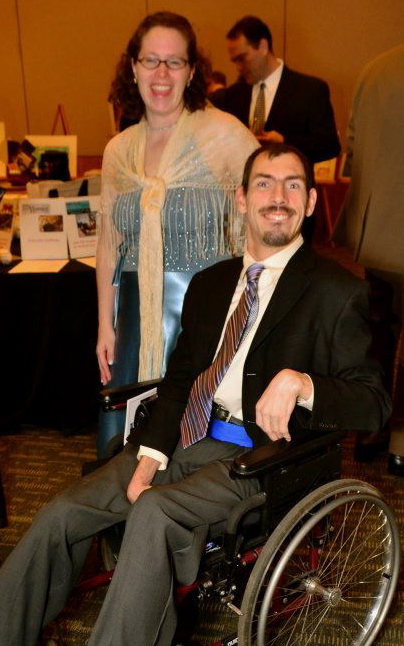 After I graduated from The University of Arizona, I made the 1,500-mile trip to Alabama to be with my, then, fiancé. I wasn't expecting the major transition from a community that supported independence for a person using a motor wheelchair with public transportation to a small town where there were fewer access-points to resources and the support of friends.
For people with disabilities, it can be daunting to rebuild natural and community support systems, such as a local social network.
Start with Your Interests
As a leadership coach, I receive many questions about how someone with a disability can meet others that they could have a relationship with. For my wife and I, we met training in martial arts. When I moved to Alabama, we trained together at the local dojo. And, this became a natural starting point for building new relationships in the area. What do you like to do and how can you find a club, group, or class to join?
Get to Know Your Neighbors
Find your perfect Wheelchair Van
Select from thousands of wheelchair vans for sale from hundreds of nationwide dealers
The Mobility Resource has one of the largest selections of Dodge, Toyota, Chrysler, Honda, Ford, Chevrolet wheelchair vans
View All Wheelchair Vans
Soon after our wedding, we found a 2-month old puppy, and I would spend the afternoon walking him around our neighborhood. As my afternoon walks became commonplace, neighbors would venture out, and we would start conversations. After a while, I noticed there were a handful of neighbors I could call on if I needed. And, later that year after a terrible natural disaster, my wife and I would check on our neighbors to make sure everyone was okay. In this way, there became a balance of giving and receiving among my new connections.
Religious Community
When I met Megan's religious community, many community members were open and excited to meet me. Many religious communities hold newcomer gatherings and classes, social events, and study sessions. In addition, religious organizations often have opportunities to serve in the community, offering new opportunities to make friendships.
Bringing Communities Together
Our wedding brought families and friends from all corners of the world together in one place. From family members that live abroad to Megan's co-workers, our martial arts community, and neighbors, we provided an avenue for all to connect.
More recently, our book launch for Ink in the Wheels: Stories to Make Love Roll provided the same opportunity for the disability community to meet local social groups. Whether it's an open mic night, karaoke night, or gathering a group of friends for dinner or a community event, how can you bring people together?
Making Valuable Connections for Others
"How can I help you?" When we make new connections, instead of talking solely about myself, asking others what they are looking for or what they need provides an opportunity to be of service. Finding mutual connections from one community to another and then facilitating the start of that relationship for other people.
Living with a disability brings out our vulnerabilities and insecurities about what people think about who we are.
For me, I have a vibrant and loud personality, allowing people to see me instead of the limitations of living with a disability.
Whether you are looking to make new friends, moving into a new living situation, or looking to be more independent, creating community connections gives you the support you need and allows for mutual reciprocation to be of service to others.
comments powered by

Disqus