Crowd Source Funding for an Accessible Vehicle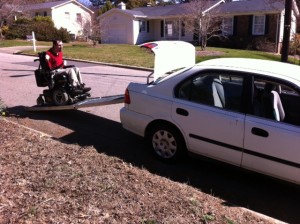 In 2014, my husband Barton entered the NMEDA Contest to win an accessible vehicle. We spent the spring gathering enough votes by sending daily emails, blogs, and other publicity. We were so excited when he became a semi-finalist, and the rest was out of our hands.
When we didn't win an accessible vehicle, on some levels we were devastated, not only for ourselves, but for the hundreds of people who had supported us. And then we had to pick up the pieces and move on. We still had my accessible Honda that was over 200,500 miles and was beyond repair.
We knew we couldn't do it alone. So, we asked for help.
How can you use crowd sourcing to fund your accessible vehicle?
Find your perfect Wheelchair Van
Select from thousands of wheelchair vans for sale from hundreds of nationwide dealers
The Mobility Resource has one of the largest selections of Dodge, Toyota, Chrysler, Honda, Ford, Chevrolet wheelchair vans
View All Wheelchair Vans
What Are You Looking For?
Do your research. What type of accessible vehicle are you looking for? Do you need one with a ramp in the back or on the side? One with a power lift or a ramp that comes out the floor? Will used vehicle meet your needs or will you burn miles on the road? Knowing exactly what you are looking for will give you a target to aim for. In sharing the specifics, it shows others you know exactly what you need and why.
Offer Something in Return.
In setting up a GoFundMe fundraiser, we donated an hour of service for several local organizations in return for every $50 we raised. It felt great to give back to the community in the ways we knew how, in addition to receiving support from those around us. What will donors receive by contributing? What will the community receive for supporting you?
Keeping the Message Positive.
One aspect of the van give-away we noticed the most was how the overall attitude became so depressing, and each person's story became the poor me story; I need a vehicle more than anyone else. The truth is: every single individual or family that entered the contest needed and deserved an accessible vehicle. For us, it was important to inspire others to keep persevering through the challenges they faced. What message do you share beyond needing an accessible vehicle?
A Picture Creates a Thousand Words
It's one thing to say we needed an accessible van. To say that my non-accessible vehicle wasn't going to work anymore. It's something else when we put a ramp into the trunk of the Honda Civic, with Barton headed up the ramp. Or when we created a storyboard of Barton pulling the Honda with his wheelchair. In our overly visual society, show why you need accessible transportation.
The Upside and Downside of Creating Local Partnerships
While we were working on funding for a new vehicle, we partnered with a local dealer to use an accessible van to be able to continue momentum for our book launch. They came in at the right time to meet our need. However, in the end, they weren't able to provide what was discussed early on in the partnership, and our donors had a vested interest in the type and cost of the vehicles we used funds for. So we weren't able to use them for the purchase of our new vehicle.
Disappointed. Frustrated. Great- Keep Going
Accessible vehicles are expensive. There's no one way and no right way to raise funding for your accessible vehicle. Most likely, funding will come from many sources. In our case, we used birthday and Christmas money, a GoFundMe campaign, a family fund match, and a loan specifically for accessible vehicles to pull it off. It was hard. There were times when we wanted to quit, but we knew we had to keep on going.
In the end, we found an accessible vehicle in a way we could have never expected.
While accessible vehicles are expensive, crowd sourcing and fundraising is one way to achieve freedom on the road. Share your journey with others!
Looking for funding sources?
The Ralph Braun Foundation
NMEDA Mobility Awareness Van Contest
comments powered by

Disqus