Accessibility Review: Cruisin' The High Seas On Wheels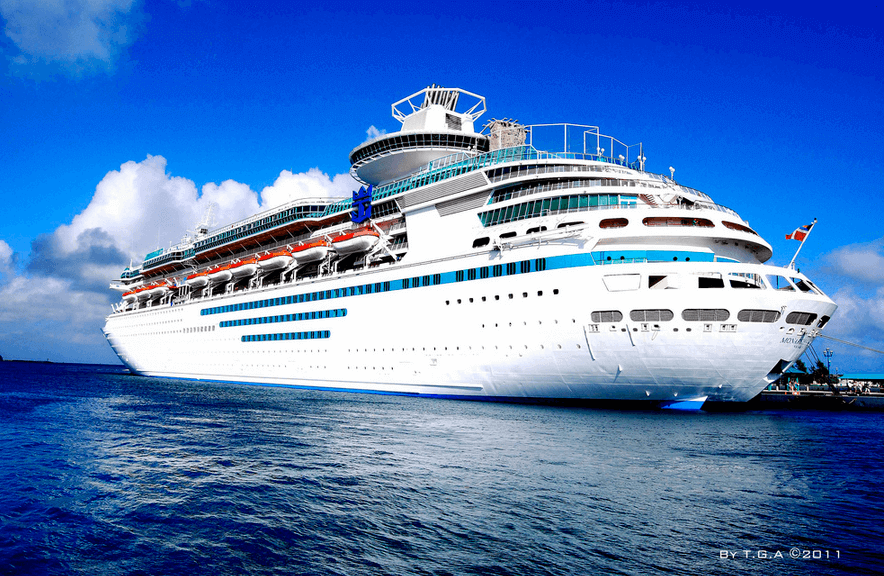 We recently cruised on Royal Caribbean's Oasis of the Seas cruise ship out of Ft. Lauderdale and had an absolutely fantastic time. Before we left, we were a little worried about accessibility – but as it turned out, we had nothing to worry about.
Getting on the Ship
Guests with disabilities are given priority access at check-in, a special boarding waiting area, and priority getting on the ship itself. They specifically plucked the four of us out of the crowd to board first. We were within the first 50 guests (out of 5,400) on board.
The Ship
Find your perfect Wheelchair Van
Select from thousands of wheelchair vans for sale from hundreds of nationwide dealers
The Mobility Resource has one of the largest selections of Dodge, Toyota, Chrysler, Honda, Ford, Chevrolet wheelchair vans
View All Wheelchair Vans
A wheeler's delight! My husband is paralyzed completely from the shoulders down and uses a chin-controlled chair. He was completely independent on the ship except for having someone push the elevator buttons for him, which people were more than happy to do. On the ship, 100 percent of the doors in public areas were automatic sliders. Every single public area was sloped gently or flat so he was able to access all areas of the ship. We were utterly amazed and thoroughly delighted. It gave us a lot of freedom for me to enjoy one area of the ship (let's say, theoretically, sipping champagne at the spa) and for him to enjoy another (let's say, theoretically, the casino).
The Room
We booked a handicapped accessible stateroom – and trust me, you must book an accessible room because the doors on the non-handicapped rooms are not wide enough to fit a wheelchair through them. Once inside our room, which in our case was a deluxe balcony room (but not a suite), we were massively impressed. We had a king size bed for ourselves, a chair that converted to a twin bed for our niece that traveled with us and a pull down bed from the ceiling for our 13-year-old son. Even with all the beds pulled out, there was plenty of room for my husband to maneuver in the room itself, and there was a small ramp that deployed when you opened the door to the balcony so that he could fully get onto our large (relatively for a cruise ship) balcony. There was also plenty of space between the bed and the wall to park my husband's wheelchair to transfer him in and out of bed. The bathroom was spacious and had a no-lip roll-in shower with multiple shower heads, a lowered toilet and lots of grab bars. We were extremely pleased with our room. Every night we were back in the room by 9 or 10 because it was so enjoyable to just sit in there with the door open to listen to the waves and talk on the balcony.
The Entertainment
This was perhaps our only (minor) gripe. They had several theatre venues on the ship and like most places, the only handicapped seating was literally the last row. Despite being the last row, the shows themselves were fantastic.
The Pools
There were six swimming pools (by my unscientific count, I pretty much lost track after the third pina colada and at least that many hot tubs. Several of them had handicapped lifts and while we didn't take advantage of them, we did see them being used. The staff were careful and helpful using the lift for guests with mobility impairments.
The Dining Rooms
The dining rooms were huge and we received a tip from friends ahead of time to talk to the maître d' about getting a table near the door of the dining room so that we would not have to horn our way past 50 tables to get to our table every night. Good advice that was! They sat us at the very front and after the first night, arranged the table perfectly to suit my husband's wheelchair. The staff remembered our names, remembered our poisons (err, I mean drinks), brought us extra entrees each night for our ravenously hungry teenage boy and were charming and solicitous in all regards. We could not have asked for better service.
The Weather
Why am I talking about weather as an accessibility issue? Those with disabilities often have problems regulating their body temperature, and my husband is counted among that crowd. Going in December, the highs were in the upper 70s and the lows in the mid 60s. It was the absolute perfect temperature for his body. If we had gone in the summer when it is in the 90s and 100s, we would not have been able to enjoy the outdoors nearly as much.
The Ports
We were on a ship too large to dock at tendered ports, so they were all at piers. If you go on a smaller ship, be advised that wheelchairs often cannot go on tendered ports and definitely not powerchairs. In our case, we were able to walk/roll down the pier and walk around the shops and plazas. One destination had beach wheelchairs, but we did not take advantage of them, although we saw others using them. On the whole though, excursions at ports are not very accessible, especially to those in power chairs, and as such, we just wandered through the shops and spent too much money!
The Staff
Many times throughout the week onboard, cruise ship staff would stop us and ask us about the ship and its accessibility, and if there was anything they could do to make our experience more enjoyable in any way. They even would take the bottle mounted on the back of my husband's wheelchair to fill it up with something to drink for him when I wasn't with him, or simply to save me the trouble of getting up. And you wheelers in the crowd know what I'm talking about – not a single staff person talked down to him, talked loudly or slowly to him, or treated him like anything but a competent paying adult passenger.
The Other Guests
We did get our fair share of stares – but that happens everywhere we go from the grocery store to hockey games to the mall. However, because you're trapped (oh darn) on this really big boat with the same people for seven days, they eventually get used to seeing you and the stares lessened as the week went on. However, I will say that overall everyone was in a great mood. The elevator rides were fun because we'd talk about where everyone was from, how good the shows were, how beautiful the weather was, etc, because literally everyone was on vacation. We struck up conversations with people from all over the world. We saw about 10 other wheelers on board and gave them the obligatory head nod of solidarity. One wheeler who spoke only, and I mean only, Spanish came up to us and was desperately trying to communicate something to us. Finally, he took off his wheelchair glove and showed us his shiny new wedding ring and we figured it out – hearty congratulations then followed! It was so nice that he picked us out of the crowd to come show us because we were both wheelers.
I have highlighted only the parts of the cruise that relate to accessibility, there are so very many other things that were fabulous beyond belief about the ship that I haven't written here. And while I can't make any generalizations beyond the cruise line and specific ship that we went on, I can say that we were absolutely blown away by our vacation experience and can't wait to go again. In fact, we are going again – we booked New Year's week next year on the same ship. Anybody want to join us?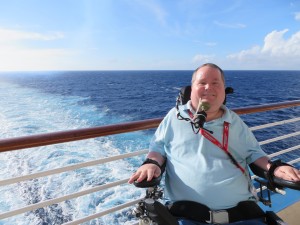 comments powered by

Disqus