"Daring to be Dumbo" Promotes Self-Confidence to Overcome Bullying
An effective leader, who can gain the support of a vast community, has the power to manifest beautiful experiences, which leave lasting impressions. The leader in this scenario is Mary Verdi-Fletcher, the founder of Dancing Wheels Dance Company and School–the first dance company and school established in the United States that integrates dancers with and without disabilities.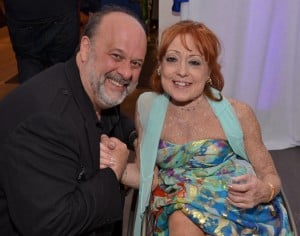 Their latest performance and world premier, "Daring To Be Dumbo" left audience members with wide-eyes and dropped jaws, which is a typical reaction to the artistic fashion in how Dancing Wheels pushes the boundaries. Before the curtain was raised though, guests were treated to a Cirque Soirée Gala which, included a musical performance by
Elec Simon
of the renowned percussion ensemble STOMP. Speeches were then delivered by influential members of the community who were instrumental in making this event possible.
First, Chairperson of the Board of Directors for the past five years, Kerry Agins expressed her gratitude for her role in facilitating the work of Dancing Wheels. Prior to delivering her speech, Agins told The Mobility Resource, "I saw Dancing Wheels for the first time when I was a kid in school." They often do outreach and education programs at schools of every academic level. Clearly, Dancing Wheels has a profound impact on those they reach out to. Agins went on to say with a smile, "Once you meet Mary and see what we do, you just don't escape!"
Dick Russ, former news anchor for WKYC Channel 3, delivered the second speech. After more than 30 years with Channel 3, Russ decided he needed a career change and is now the VP of Resource Development at North Coast Community Homes. "I have a loved one with a disability, which has fueled my passion to support people with disabilities in reaching their goals," he said. In his speech, Russ announced that Dancing Wheels is embarking on an exciting new documentary project, funded by the Cuyahoga Arts "Creative Culture Grant" program.This made-for-TV documentary will be part of a greater outreach program to aid in abolishing bullying.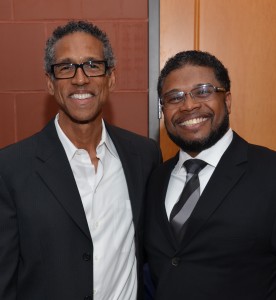 A very distinguished young man with Tourette Syndrome, Justin Bachman, delivered the third and final speech of the evening. Bachman is a 10th grader at Solon High School, who is a profound activist for the anti-bullying movement. He has been a Youth Ambassador for the State of Ohio by the National Tourette Syndrome Association. He also received the President's Volunteer Service Award from President Barak Obama and the Council on Service and Civic Participation. Bachman was indeed an excellent candidate to introduce Dancing Wheels in their production, "Daring To Be Dumbo."
This nostalgic yet modernized adaptation of Disney's 'Dumbo' was Directed, Choreographed and Narrated by David Rousseve. The essence of the key characters, played by Mary Verdi-Fletcher (Dumbo's Mother), Dezare' Foster (Dumbo), and Jen Sikora (Timmy – Dumbo's only friend), remain unchanged. Yet, Rousseve very creatively bridged the generational gap by incorporating every teenager's favorite past-time into this tale…TEXTING! Rousseve's story-telling narration was accompanied by an animated storybook back-drop, created by Dave Ramnarine of the greater Cleveland area. After the performance, audience members agreed that two of the most spellbinding moments were Foster's graceful athleticism and the flying elephant!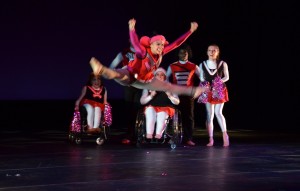 Maintaining a circus-like atmosphere, the after-party was equally magical and provided guests an opportunity to meet the Dancers as well as those behind the scenes like Stephen Eva, Director of The Chagrin Studio Orchestra. He told The Mobility Resource that his 30-piece orchestra created a custom arrangement for the "Daring To Be Dumbo" performance. They then "swapped" their custom arrangement with Disney to gain permission to use "four hit tunes" from the original 'Dumbo' including, "Baby mine" and "When I see elephants fly."
Dancing Wheels Dance Company and School is currently seeking more Dancers with and without disabilities. If you are interested, they can be reached at 216.432.0306.
All photo credit: Tom Trainer
comments powered by

Disqus