Director Ben Lewin Explores Disability, Love and Sexuality in "The Sessions"
** Win dinner and (2) tickets to see "The Sessions" at a theater near you. Just share this post on one of your social channels and you're in: Facebook, twitter, Pinterest, LinkedIn or Google plus. Use the sharing links above. Read the fine print at the bottom of this post for details.
Ben Lewin, director of Fox Searchlights new film, The Sessions, spoke with fellow polio survivor Jennifer Gorman of The Mobility Resource about his cinematic tale of another polio survivor, Mark O'Brien. The California poet, who died in 1999, has already been the subject of one Oscar-winning film, the 1996 short documentary, Breathing Lessons.
The Sessions, starring John Hawkes, Helen Hunt and William H. Macy, is gaining similar buzz as the Hollywood awards season heats up.
When Ben Lewin first read Mark O'Brien's story, On Seeing a Sex Surrogate, he didn't trust his own reaction.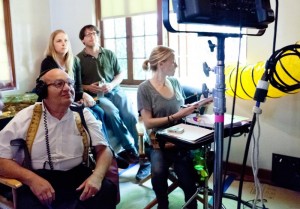 Find your perfect Wheelchair Van
Select from thousands of wheelchair vans for sale from hundreds of nationwide dealers
The Mobility Resource has one of the largest selections of Dodge, Toyota, Chrysler, Honda, Ford, Chevrolet wheelchair vans
View All Wheelchair Vans
"One of the first things I had to do was go put my personal experience with polio aside," he said. "I really needed to hear how people who were not disabled would react to the story before I fully embraced it as a filmmaker."
The Sessions introduces us to O'Brien, a sharp-witted writer with polio who wants to lose his virginity at the age of 38.
O'Brien (Hawkes) consults his priest (Macy), who gives him the go-ahead to explore his sexuality with surrogate Cheryl Cohen-Greene (Hunt).
To test the non-disabled audience, Lewin sent "On Seeing a Sex Surrogate" to a film-school friend who "thinks a good movie is anything with John Wayne."
His friend's reaction showed Lewin that O'Brien's story "reflects everyone's fear of sex. That's what I needed to hear."
Disability and sexuality are not often explored together in cinema, but Lewin didn't feel like he was making a taboo-breaking film.
"It wasn't my first thought and I wasn't aware until the movie got out just what those taboos were," he said. "Sex is not favored in American movies, at least not realistic sex."
"I responded more to the emotional impact of the story," Lewin said. "I figured if the story engaged me emotionally as intensely as it did, it should impact the audience as well."
That has already happened, as The Sessions scored an Audience Award and the Special Jury Prize for Ensemble Acting at the 2012 Sundance Film Festival.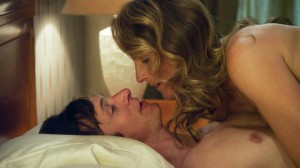 "The audience has embraced this more than I've anticipated," Lewin said. "Disability and sex is not a negative combination. I'm surprised at how much people are ready for this."
The Sessions does not shy away from nudity, which is a marked departure from Hunt's more famous movie roles. Lewin said Hunt made all the nudity feel effortless.
Lewin gives a lot of credit to both Hunt and cameraman Geoffrey Simpson for making these scenes work.
"They had a very intimate, trusting relationship and a real chemistry that made it easier for her to do what she needed to do," he said.
Hawkes won the Breakout Performance Award at the Hollywood Film Awards for his portrayal of O'Brien. Lewin gave several disabled actors a chance at the role before choosing Hawkes, who also gained acclaim in Winter's Bone, Martha Marcy May Marlene and the TV series Deadwood.
"One thing that really impressed me about John was that the first question he asked me was that he was concerned he was taking work away from a disabled actor," "I had to reassure him that I had gone there," Lewin said. "Once I told him I had, he felt more comfortable. I realized that this is a genuinely decent person, much closer to Mark O'Brien than to some of the creepy roles he's played."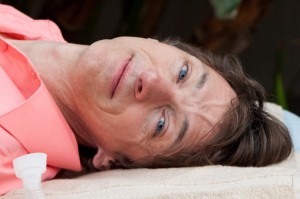 The movie was originally called The Surrogate, but the title was switched to The Sessions to avoid confusion with the 2009 Bruce Willis movie "Surrogates."
As far as awards go, Lewin calls the parade of statuettes leading up to Oscar night a part of the business of marketing a film.
"The glamour of Hollywood is what the public wants and it attracts people to buy a ticket," he said. "It could be fun. I like to see the red-carpet dress-ups."
The buzz around The Sessions should lead to a healthy boost for Lewin's career.
"It's really turned my world upside down," he said. "There a whole range of projects that were not available before. We'll see what happens after the dust settles."
Lewin said he did not intend to make a statement or send a message with The Sessions.
"I feel very good that the audience doesn't come out and stream right home; they talk about it after the movie and the following day," he said.
"Everyone gets a different message from the movie. One person said, 'I'll never take sex for granted again.' That's not really the message I was going for," Lewin laughed.
As a polio survivor, Lewin has a unique perspective on the perception of people with disabilities in Hollywood and the media. He doesn't expect The Sessions to make a major change in society and he doesn't seem to mind.
"I have a high level of tolerance," he said. "When I'm out with my wife, people talk to her. They'll say, 'Does he take sugar?' I'm not offended; I'm amused by it. You're not going to change human behavior; there's a fear of what's different."
However, it doesn't have to be that way, Lewin added.
"In the movie Ben-Hur, the lepers were the outcasts of society. Once I traveled to Papua New Guinea when I was a young journalist, where there was a 10 percent incidence of leprosy, but they weren't segregated. They were treated like normal people. It was astonishing. And this was one of the most primitive peoples on the planet," he recalled.
"I have a blind friend who says he gets into the elevator with his dog – and people talk to the dog. You see – it's funny. I don't take it too personally."
As you can see, Lewin shares more than just the experience of polio with O'Brien; they also seem to have the same sharp sense of humor and a directness that can't be ignored.
Jennifer and Jeff D Gorman co-write for The Mobility Resource and BraunAbility wheelchair vans.
All media courtesy of Fox Searchlight.
Win dinner and (2) tickets to see "The Sessions" at a theater near you. Just share this post on one of your social channels and you're in: Facebook, twitter, Pinterest, LinkedIn or Google plus. Use the sharing links at the top of this page.
The Fine Print:
Every social share counts as one entry. Don't worry, we have tools in place to track who you are.
Receive five extra entries by commenting below. Tell us your thoughts. How do you think disability affects love and sexuality?
We're giving away a total of five pairs of tickets and one dinner.
There will be one grand prize winner of a $50 gift card at a restaurant of their choice and two tickets to see "The Sessions" at a participating local theatre.
There will be four runners-up who will receive a pair of tickets to see "The Sessions" at a participating local theatre.
Contest ends November 19 at 11:59 p.m. EST. Winner announced November 19.
comments powered by

Disqus