Director Michael Brown Takes Moviegoers, Veterans with Disabilities to 'High Ground'
Veterans who return from the war with disabilities have not seen the end of challenges, thrills and accomplishments. That message is made clear in the new mountain-climbing documentary, High Ground.
Director Michael Brown spoke with The Mobility Resource's Jeff and Jennifer Gorman about the story of 11 veterans with disabilities (plus one military mom) who returned from combat in the Middle East and gathered to scale Mt. Lobuche, a 20,000-foot peak in the Himalayas.
Brown, who has climbed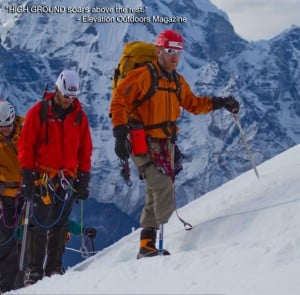 Mt. Everest five times, also directed Farther Than The Eye Can See, the story to Erik Weihenheimer's success as the first person who has a major visual impairment to scale Everest.
Weihenheimer was part of the High Ground climbing expedition as well.
"He's an accomplished climber," Brown said. "In addition to Everest, he has climbed Mt. McKinley as well as the 3,000-foot Granite Wall in Yosemite National Park. His philosophy is to be prepared with a fantastic team. He gives himself every advantage."
Find your perfect Wheelchair Van
Select from thousands of wheelchair vans for sale from hundreds of nationwide dealers
The Mobility Resource has one of the largest selections of Dodge, Toyota, Chrysler, Honda, Ford, Chevrolet wheelchair vans
View All Wheelchair Vans
Brown has found a home with his camera high above the earth below, as he also made The Alps IMAX and Light of the Himalaya, in a film making career that has seen him win three Emmy Awards.
Brown teamed up on this project with Oscar nominated producer Don Hahn, who made The Lion King and Beauty and the Beast as well as nature films such as Chimpanzee, Oceans and Earth.
"Climbing a mountain is such a great feeling," Brown said. "It's a pleasure to be so high above the rest of the world, and when you feel that cold wind, you get a sense of how small we are as human beings."
"We have the feeling that the mountain has given us so much that it's a real privilege to share that, with veterans with disabilities, young people, anyone who is willing to accept it."
Brown said the while mountain climbers and combat veterans aren't necessary bound by a common adrenaline rush, they do share an endorphin rush that leads to heightened awareness.
"I don't have combat experience, but in such a big adventure, there are some parallels," he said. "You have the opportunity to tune into yourself and be 100 percent focused. That benefits veterans to get back to that state of being in a positive way and helps them to move on."
One of Brown's favorite aspects of High Ground was the opportunity to take an extended period of time with each veteran to delve deep into their stories.
"Experiencing a story is a lot like getting a gift," he said. "Being a storyteller is a powerful experience. It's a chance to find the deep meaning of why someone has done something in the past and what they will do in the future."
Brown said he has "huge respect" for veterans and was thrilled to take on the protective role that they play for American civilians.
"They have experienced things that are beyond my imagination," Brown said. "When they look to you to stay safe in a situation where one mistake could be fatal, you make a connection on that basis. You get the feeling in that moment that you're in this together."
Fans have reacted strongly to High Ground because they get to see a different side of our troops.
"It really opened their eyes because all they've seen in reports on the news are the superficial images of war," Brown said. "Here, you realize what is going on in someone's heart."
"People realize that they aren't along in the alienation, the boredom and the disconnection from the civilian world that happens when their loved ones return from war," he added. "I would hear 'that's like my brother,' 'that's like my sister.' Now I get what they're going through."
November is an appropriate month to release High Ground, with 11 veterans and the 11th month of the year. According to Mr. Brown, it was by design that the movie debuted in November because that's the month Americans intently think of veterans. "You get a spike in patriotism around Veterans Day and it's a chance to reach more people."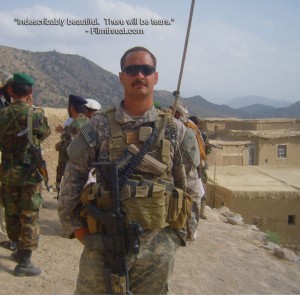 While it's difficult to bring any documentary to the attention of enough Academy members to secure an Oscar nomination, Brown said he made sure his film was eligible.
"I believe in this film and if everyone with a vote took the time to watch it, we would have an excellent chance," he said. "In the real world, it's tough to get the word out."
You can see High Ground on the Documentary Channel or on Netflix, or you can pick it up at Best Buy or Wal-Mart. However, Brown said the best way to see his film is at the cinema.
"It's designed for the big screen," said Brown. "It has an amazing soundtrack and the sound effects are incredible."
Mr. Brown didn't just make a movie depicting veterans with a disability. When you talk to him you hear the genuineness in his voice. As he is talking you sense the deep level of respect and love he has for the men and women that took the journey up and down the mountain with him.
There are many ways to honor our veterans. Seeing High Ground is one. What are your favorite ways of honoring those who fight for our freedom?
Jennifer and Jeff D Gorman co-write for The Mobility Resource and BraunAbility wheelchair vans.
comments powered by

Disqus