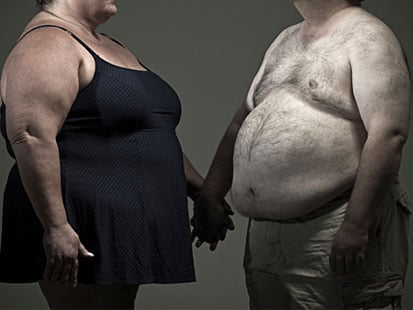 When you see an overweight person riding a scooter through the mall or using a handicap parking spot, you can't help put ask yourself a question.
Is this person disabled … or just fat?
That brings up another question: Does obesity qualify as a form of disability? One Kentucky court case last summer turned on that very question.
Melissa Pennington worked as a food truck operator at Churchill Downs, home of the Kentucky Derby, for 10 years. She stood 5-foot-4 and weighed 425 pounds. Diabetes caused dark circles under her eyes.
She was fired by her employer, Wagner Pharmacy Inc. Two employees testified that Pennington was terminated for appearing "overweight and dirty."
Pennington sued Wagner's, claiming that she was fired on the basis of her disability of morbid obesity. The company argued that she was fired for failing to generate sales.
The trial court ruled in Wagner's favor, stating that Pennington's obesity was not a disability because it was not caused by an underlying psychological condition.
Kentucky law defines "disability" as "a physical or mental impairment that substantially limits one or more of the major life activities of the individual."
So Pennington took the case to the Kentucky Court of Appeals, which reversed the decision, citing the testimony of Dr. Edwin Gaar, who has performed thousands of bariatric weight-loss surgeries.
Gaar stated that "morbid obesity like (Pennington's) is caused by a cluster of often unknown physiological abnormalities and that morbid obesity like hers is in itself an abnormal physical condition or disease."
The doctor also testified that morbidly obese people often have trouble sleeping and sometimes struggle to perform basic activities like tying their shoes.
In light of this testimony, the Kentucky Court of Appeals ruled the Pennington's obesity is a disability, and that she can therefore go back to court to prove that she was wrongfully terminated.
So now what? Do we welcome morbidly obese people into the disabled community? Can we create a new word: "disabesity?"
The answer, as usual, is to get to know someone as a person before making assumptions. You could see an obese person and fail to realize that they have a disability that isn't immediately noticeable. The person could be deaf or have multiple sclerosis, for example.
Just don't assume that anyone isn't "really" disabled, because you could wind up with a case of morbid embarrassment.
Find your perfect Wheelchair Van
Select from thousands of wheelchair vans for sale from hundreds of nationwide dealers
The Mobility Resource has one of the largest selections of Dodge, Toyota, Chrysler, Honda, Ford, Chevrolet wheelchair vans
View All Wheelchair Vans