Disabled Artist, Drifting Between Life and Death, Un-Defines Sexuality Through Erotic Art
Disabled Erotic Visionary Embraces Betraying Body
The subjects of spirituality and sexuality have sparked fierce and bloody debates throughout history, such as The Burning Times and the Crusades. Yet they have also played the role of Muse for some of the most famous, respected, and beloved artists, including Michelangelo and Da Vinci. Throughout this struggle, strife and celebration of the human form in all of its physical and ethereal potential, there has consistently been an invisible population. The disfigured, crippled, deformed, disabled and imperfect bodies that made people feel uncomfortable were hidden out of society's view and disqualified from the arts–excluded from history.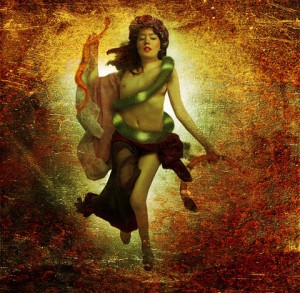 It is one disabled artist's mission to ensure this disparity is not perpetuated in tomorrow's art history. Her name is Jocelyn Woods, 27-year-old born with a progressive neuromuscular disease. Her long-term prognosis is somewhat unclear because doctors are indecisive about her diagnosis. It is claimed that she either has a type of spinal muscular atrophy or possibly a rare form of congenital myopathy.
At the age of 12 she lost her ability to walk independently because of the progression of her muscle wasting disorder. This did not prevent her from being a classical pianist and composer at a very young age though because it was her first artistic passion. Her condition became more aggressive when she was 18, after suffering a traumatic case of the flu. As a result, her ability to engage in her chosen art form was stolen from her. Her body became too frail and weak. From that point forward she has remained confined mostly to her bed.
Jocelyn's current existence is somewhat metaphysical, drifting between two worlds. Conversing with her could be likened to communicating with a higher power or angelic being. Every utterance is spoken with poetic, captivating fluidity.
Find your perfect Wheelchair Van
Select from thousands of wheelchair vans for sale from hundreds of nationwide dealers
The Mobility Resource has one of the largest selections of Dodge, Toyota, Chrysler, Honda, Ford, Chevrolet wheelchair vans
View All Wheelchair Vans
She describes her reality like this.
"To hang suspended between life and death can at first be interpreted as a sensation of indescribable heaviness and tension. I have been hung there multiple times, in suffering illnesses and felt as though I was the burden of flesh hungrily craved by two opposite starving worlds."
Yet it became apparent to me that the dilemma of choosing between the land of the dead or the land of the living only remains a crisis so long as we presuppose the law that only one can be chosen of the two.
Jocelyn's artistic spirit remains untainted. Yet, her body is no longer the tool used to make her art. Instead, it is her art. Rather than making enemies with her constantly betraying body, she has chosen to embrace it. Due to the nature of her latest work, she has been referred to as a "Mystical Erotic Visionary." Inspired by the works of the Old Masters, Jocelyn uses her own nude and disfigured form to represent the Divine Feminine–the perfect combination of spiritual and sexual femininity.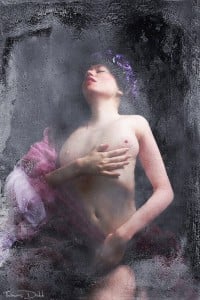 Her current project, in collaboration with photographer, Thomas Dodd, 'Ecstasy of a Cripple Part II: WE ARE THE CURE,' will be a collection of images, including short films that depict "Erotic-Apocalyptic" art. She explains the goal of this endeavor is "to promote the dynamic empowerment of authentic self-expression, in its capacity to catalyze a cure that reveals incorruptible wholeness."
Jocelyn is currently facing another challenge. She does not have the luxury of physical stamina, required for traveling. In order for her to complete her latest work, her legacy, everyone and everything involved must travel to her bedside. To allow her supporters an opportunity to contribute toward her goal of raising $7,695, Jocelyn has set up an Indiegogo page. This is a very small price compared to the huge impact her art could have on society today and tomorrow.
comments powered by

Disqus