Discussing Disability Awareness with Author Brent Poppen
The following represents the second piece to a two-part series based off The Mobility Resource's recent interview with multi-talented disability advocate Brent Poppen (read part one here). Included you will find your chance to win a signed copy of either Poppen's autobiography Tragedy on a Mountain: A Quadriplegic's Story from Paralysis to Paralympics or his children's book Playground Lessons: Friendship & Forgiveness.
A disability advocate for a more inclusive community, Brent Poppen realizes his outreach needs to go beyond just those individuals directly impacted by handicaps. Like he demonstrates during our discussion and we know from providing car hand controls, too many misconceptions about disabilities exist. Awareness proves essential to debunking these myths.
Raising Awareness
First and foremost Brent Poppen aims to enhance other disability comprehensions by welcoming curiosity. He shares, "I love it when we're [he and his wife] out to eat or we're out in public and a kid at a grocery store or a restaurant or wherever we're at, comes up to me and asks 'Why don't your legs work?' Or 'Why are you in a wheelchair?' And I'm so happy to take the time to answer those questions."
Sadly Poppen doesn't always get this chance. He explains, "The parents usually go 'Hey, get over here. Don't ask him that!' I go 'No! No! No! No! No!' The last thing I want is that kid to not feel comfortable because next year, this year, two years down the road there might be a kid in his school who has a disability and now he's not going to feel comfortable because you just shooed him away from me. So, he thinks it's not a good thing to go talk to someone in a wheelchair."
Find your perfect Wheelchair Van
Select from thousands of wheelchair vans for sale from hundreds of nationwide dealers
The Mobility Resource has one of the largest selections of Dodge, Toyota, Chrysler, Honda, Ford, Chevrolet wheelchair vans
View All Wheelchair Vans
Anxiety often accounts for parents' behavior in such situations. Their unease stems from an internal filter which says "You can't ask that because it's rude." By comparison kids will basically ask what's on their minds. Poppen enjoys working with youngsters due to their bluntness. His books help to shape the much needed disability orientation dialogue. Interestingly enough Poppen wrote the books while experiencing major health woes.
The Health Scare
Brent Poppen recalls putting off treating a sore, leading to a serious health scare. "I put it [treating the sore] off to the side because I still had commitments with wheelchair rugby. I was going to Argentina competing in tournaments. I was working at Children's Hospital, doing water ski clinics. So I kept testing my body, going 'Okay I'll deal with it next month. I'll deal with it next month.'"
Thankfully Poppen's wife intervened. "I was fortunate that my wife who had been telling me to go to the hospital for months, and I just didn't listen to her, got a hold of my sister whose a nurse in an intensive care unit and had her come to the house and take a look at me. She [my sister] forced me to go to the hospital and it was at that time they immediately made me an inpatient." He recounts, "They [the doctors] told my sister, 'If you didn't bring your brother here this Sunday, he would be dead by next Wednesday.'"
The sore had turned into a blood infection. Poppen spent months bedridden recovering. A teacher he knew from the school district he substitute teaches at emailed him saying, "I know you're going to be in bed a very long time and I know you're very, very sick. But, while you're in bed I know how your mind works. You need to write a children's book." Keen on the idea, Poppen eventually grabbed a laptop.
Becoming an Author
With a laptop in tow Poppen went to work "I wrote a story that meant something to me, which was about a boy in a wheelchair [named Harley] in second grade going to a new school." Two days after finishing his kid's story, Poppen received an email from a past teacher Dr. Lucille Richardson. Dr. Richardson, who works in the publishing industry, taught Poppen 23 years earlier in the hospital following his accident. She Googled her former pupil's name and became awed at the results.
"We need to put your story to print" Dr. Richardson said. Poppen agreed to contemplate the idea then stated, "'In the meantime I have an 80-page Word document, kid's story that I don't know if it's any good or not.'" She told Poppen to email her the story.
Poppen remembers his old teacher's response. "Four hours later she says 'Me and my partner are both crying. The kid's story has to be done." So impressed, Dr. Richardson offered to print the story titled Playground Lessons: Friendship & Forgiveness at no cost to Poppen. Given the fact Poppen didn't become disabled until high school, the story required some creativity. Basically he takes his experiences as an adult and adapts them to a second grader's life.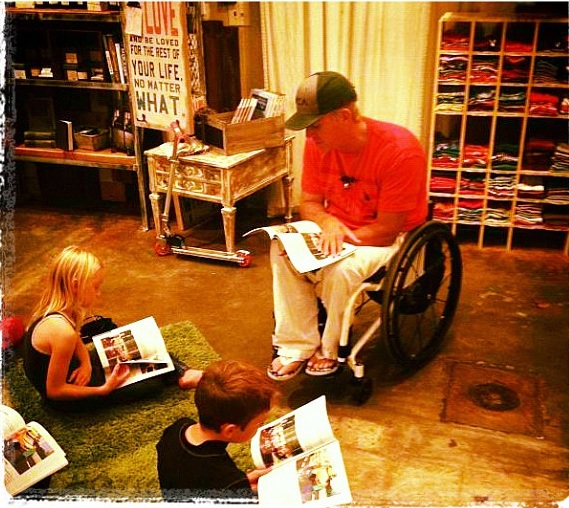 For instance, "I talk about at the very beginning of the children's book [Harley] waiting on the corner with kids waiting to get on that school bus for the first day and waving goodbye to his parents like all kids do. Sure enough the school bus which comes to pick up Harley doesn't have a wheelchair lift so Harley can't get on the bus and how he feels about that. I deal with that multiple times a year when I'm traveling. Either the hotel's shuttle I'm staying at where I need to get from the hotel to the airport doesn't have a wheelchair lift. Or they have a lift but it has been broke for two years and they never fixed it."
Applied Inside the Classroom
Schools use both Playground Lessons and Brent Poppen's autobiography Tragedy on the Mountain. Poppen indicates the children's book's subject matter remains appropriate for kids between first grade and eighth grade. Second graders at an advanced reading level can read Playground Lessons independently. Each chapter also contains questions to stimulate discussion about how individuals treat Harley.
On the other hand Poppen notes fourth graders can probably read Tragedy on the Mountain by themselves. Yet he advises parents to read along or read ahead a few chapters due to content. Poppen suggests sixth graders contentand up will likely maintain the maturity to read the autobiography.
The author did make a point to acknowledge the school districts for using his books and allowing him to come speak to students. "I'm just very thankful we are having the success we are. That teachers and principals and schools see the importance of disability awareness and anti-bullying and treating people that are different with same kind of respect you treat anybody with." Ultimately through education society holds the power to dissolve disability misconceptions, creating a more inclusive community.
BOOK GIVEAWAY!
Win an autographed copy of either Tragedy on the Mountain: A Quadriplegic's Journey from Paralysis to Paralympics or Playground Lessons- Friendship and Forgiveness. To enter follow The Mobility Resource on Twitter at @SweetMobility. Tweet us indicating which book you wish to win by using #PoppenKidBook or #PoppenAutobiography. Two names will be randomly selected for each book. Winners will be selected Friday, January 4th so enter today!
comments powered by

Disqus