Living with a Disability? Embrace your Rebellion
Special to The Mobility Resource
If you're in a motorized wheelchair, go ahead and take a look to your right.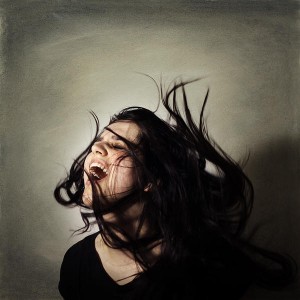 Your other right.
There you go. See that black, rounded, plastic joystick?
All I see is rubber and the metal pole beneath the cover, glinting off a little lamplight. I didn't lose the cover. I chose to remove it. The second they rolled out the fresh wheelchair, I popped it off.
It's time to start sensing a pulse on the mechanics of handicapped cool. Riding without the cover on your joystick was always the first flag of a rebel to me. I'm pretty sure that's why Mrs. Gorman hired me. I barely deserve to be among the great minds pooled into this blog, but what I have to offer is a spirit of youth and defiance from one who's been wheelchair-bound the entire seventeen years of my life.
My name is Shea Megale. I'm the author of three self-published children's books regarding my late service dog, Mercer, as well as eight yet-to-be-published Young Adult novels. Like any writer, I am overemotional, oversentimental, endearingly arrogant, philosophical, romantic and enchanted by particularly attractive young actors. But mostly, I define myself with an enduring love for humanity and a stalwart rebelliousness to (among other things) my disease, Spinal Muscular Atrophy II.
I suppose as any adolescent, my perspective on starting out in the world, treading the water with relationships, discovering who you are and what you believe in, and especially good music, is keen enough. But a manual on my generation, the trends of the progressives, the antidote to debilitating biology, and non-awkward social behavior, don't expect that from me. I'm learning them myself. The beauty will be finding out as we go.
Defiance is different for every person, in every battle, against every demon. Defiance is hanging your head to the applause you don't want to hear and approaching the podium to speak. It's twirling the drumstick despite the carpal tunnel bandage around your wrist and pounding the snare. It's sending another query letter when the last rejection popped up white in your inbox. For me, it's moving in the world when it tries to swerve and blur around me. It's plowing into it head on. It's being a caretaker of humanity when, theoretically, they should be caring for me.
Living with a disability requires defiance. In any stretch, with any small action.
But part of that is expecting more of ourselves than the world expects. Getting up and going out is not rebelling against your impairment. Reaching out to another, making yourself – the inaccessible – accessible, finding humor in what you face, that is defying. That is what makes the strangers in Costco lend you a second glance, eyes shining with hesitant amusement. Maybe even respect. Catching them off-guard.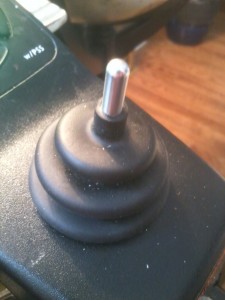 Be more than what the world expects.
(Everyone still reading? Wow. Thank you).
So whatever your rebellion is…embrace it. Channel it into your creedo, your mantra, your hakunah mattata. No revolution began without a leader of defiance.
And popping off the joystick cover is a good place to start.
comments powered by

Disqus