Esther Vergeer, The Winningest Wheelchair Tennis Champion Honored at the 2013 US Open
When Esther Vergeer from Woerden, Netherlands didn't recover mobility after surgeries to correct vascular myelopathy around her spinal chord, she applied her talent and physical skill toward becoming a top athlete. During rehabilitation she learned to play volleyball, basketball, and tennis in a wheelchair.
Initially, Esther played wheelchair basketball and was so good she was invited to join the national wheelchair basketball team. She was part of the Netherlands team that won the 1997 European Championship. Then she redirected her focus toward wheelchair tennis playing her first international tennis tournament in 1996. She moved to full-time tennis in 1998 and hitched her fate to the stars when she grabbed the #1 spot in 1999. Since then Esther Vergeer became one of the most successful wheelchair tennis competitors in the history of the sport. She is often mentioned as the most dominant player in professional sports.
Find your perfect Wheelchair Van
Select from thousands of wheelchair vans for sale from hundreds of nationwide dealers
The Mobility Resource has one of the largest selections of Dodge, Toyota, Chrysler, Honda, Ford, Chevrolet wheelchair vans
View All Wheelchair Vans
Wheelchair tennis operates on the same principles as regular tennis, using the same size tennis courts, lines, nets, racquets and balls. It has categories similar to regular tennis with Men's and Women's Singles and Men's and Women's Doubles. There is also Quad singles and Quad Doubles. The game keeps the same service and court lines for Singles and Doubles. The difference is that two bounces are allowed instead of just one for Wheelchair tennis.
It is obvious that Esther Vergeer has always worked hard to develop her athleticism and constantly adapted to the rigors and challenges of wheelchair tennis. Just reviewing her records, you understand why she is in the history books as one of the most dominant players in professional sports. Over the course of her career Vergeer won 700 matches. SHE ONLY LOST 25 MATCHES. Vergeer won 148 singles titles including four Paralympic Singles Gold medals, 21 Grand Slam titles (6 US Opens) and 14 NEC Wheelchair Tennis Masters.
Vergeer was World Number One for 668 weeks. She claimed the # 1 spot on 6 April 1999 lost and regained it on 2 October 2000. She relinquished the # 1 spot on 21 January 2013 and then retired in February of 2013. Taking all this in one must appreciate that Vergeer was the ITF (International Tennis Federation) World Champion for 13 years in a row. In doubles competitions Vergeer won 136 titles, 23 of which were won at the Grand Slams. Vergeer also has three Paralympic gold medals for the doubles and has been part of the winning World Team Cup side on 12 occasions.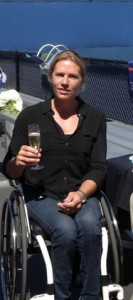 Esther is amazing because she was undefeated in women's singles matches for ten years, having lost in 2003, yet over the next decade winning 120 tournaments, 470 matches, beating 73 different opponents and not losing a game on 95 occasions. That means 95 times she double bageled her opponents with a score of 6-0, 6-0. Get the lox and cream cheese for a feast! Additionally, during the streak she lost only 18 sets. With more than 1,100 career singles and doubles wins, Esther has shined. It remains to be seen whether someone will surpass her incredible tennis record.
I had the opportunity to speak with Esther after her award ceremony and found her to be not only lovely but encouraging and down-to-earth about what she has accomplished. Right off she said that regardless of age or condition, whenever possible individuals should be involved in sports. In her remarks to the crowd during the ceremony she mentioned she loved Wheelchair Tennis and found the USTA to be wonderful and supportive of the athletes and competitors. However, she told me later that one doesn't have to play just wheelchair tennis or basketball. It could be any sport involving movement and activity. She advocated for team sports for the social aspects. Not only do they increase independence and autonomy, but they create an uplift in mood and help to ground one's outlook as positive. This is crucial to long life and well being. In our discussion she mentioned all that the sport has given her, allowing her to travel, network with individuals, make friends globally. The contribution she has made to wheelchair tennis and the contribution it has made in her life is incalculable.
In discussing what the sport of wheelchair tennis has to do to become more recognized, Esther did say what others have echoed. Other sports are more watched than tennis and of course, wheelchair tennis. She said that in the Netherlands, soccer is big and it's all about the money and the endorsements as other sports are often pushed aside, though tennis is followed more in Europe than here. She said that this is hard to change, but each year it should be getting better. The strides are being made and it will take time. Importantly, wheelchair tennis is on the map and for the first time, The Tennis Channel did cover some of the wheelchair tennis games. This should grow as the disability community speaks out and uses Social Media to promote events and take pictures when they are at events. Esther does this. She has been on FB and other Social sites and her foundation is on Facebook.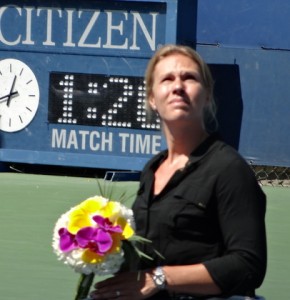 What will Esther do now that she is retired? She is on the Olympic Committee helping with the disabilities Paralympics events and issues on the road to Rio in 2016. Also, Esther takes time to work with her foundation, The Esther Vergeer Foundation, to promote and organize wheelchair sports (tennis, basketball, athletics, and winter sports) for children with disabilities. She also established Team ParaStars, a team of Dutch Paralympians, who she hopes can enjoy a greater profile in the Netherlands.
Esther Vergeer may have retired from Wheelchair Tennis but she has leveraged her celebrity to influence the sport with her presence, expertise and her moxy. Because she determines to succeed in whatever she undertakes, as Vergeer moves to put wheelchair sports front and center in the Netherlands, her dynamic will impact sports enthusiasts in this country to become more interested in the Paralympics and wheelchair sports. It has begun. Now the disability community must continue to put pressure on media…using Social. We may get there quicker than we currently imagine.
comments powered by

Disqus