EXCLUSIVE: The Desktop Desk Increases Accessibility Inside the Classroom and Beyond
A Chat with Desktop Desk Inventor Rob Mayben
Handicap vans and school buses with wheelchair lifts enables an easy morning commute to school for students with disabilities, but what happens inside the classroom when a desk or table surface creates an awkward angle to work at? These too often overlooked barriers quickly turn the day into a hard, frustrating one. Rob Mayben, a special education teacher out in California, found a solution when he invented an assistive technology device known as the Desktop Desk. Recently The Mobility Resource caught up with Mayben, via telephone, to discuss his invention. Make sure to read all the way to the end to learn about an exclusive back to school deal Mayben wants to offer you, The Mobility Resource reader.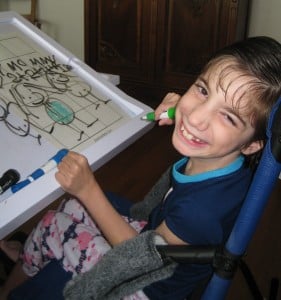 The Idea
Four years ago Rob Mayben found himself teaching a student named Neil, who uses a wheelchair because he has cerebral palsy (CP). Due to his CP Neil couldn't access the classroom surfaces and thus couldn't actively participate in class. Mayben found this unacceptable and began working on the first Desktop Desk prototype. The idea, create an adjustable angled desk which can attach to table surfaces. By angling the desk the classroom became accessible to Neil and he could actively participate.
Find your perfect Wheelchair Van
Select from thousands of wheelchair vans for sale from hundreds of nationwide dealers
The Mobility Resource has one of the largest selections of Dodge, Toyota, Chrysler, Honda, Ford, Chevrolet wheelchair vans
View All Wheelchair Vans
In addition to improving Neil's ability to function, the Desktop Desk acted as a catalyst for interaction between Neil and his peers. Mayben recalls, "It was amazing to see how students who probably wouldn't interact as much (with Neil) but took charge of making sure the desk was setup for Neil when he got into class. If it wasn't setup when he rolled in, he would use his hand gestures and silliness to say 'What's with the table man? Why isn't it set up?'"
A Demand Greater Than One
Shortly after developing the first Desktop Desk prototype for Neil, Mayben recognized a greater need for the assistive device. Dealing with a student who struggled to stay focused because of autism and another student who couldn't bend over and write due to a recent back surgery Mayben says, "That's when I kind of realized 'Hey this isn't just for students with severe disabilities like Neil but it also helps kids with fewer options, whether they're having trouble focusing or just had surgery and can't access the normal table.'"
Seeing how the assistive technology positively influenced his students Mayben lined up manufacturers to produce and distribute the Desktop Desk. To date the device sold in both the United States and Canada. When asked how many states they sold in Mayben estimated, "Probably two-thirds of them have Desktop Desks floating around."
If the testimonials posted at the Desktop Desk's website serves as an accurate indication, the device can become a difference maker in the lives of those with disabilities. Take 10-year old Sarah, pictured to the right, for example. Sarah shares her feelings on her Desktop Desk. "I love my Desktop Desk. It is fun to write on and it's perfect because my wheelchair goes underneath it anywhere in our house. My sister likes to color with me on my desktop and I used it for my science project when I had to graph results from my science experiment."
Community Support
A new Desktop Desk holds a $799 retail value, a burdening price tag for financially strapped school districts and parents. Fortunately sponsorship programs fueled by community support can remedy the expense. Clubs and businesses purchase Desktop Desks and donate them to local schools, colleges, adult centers and sometimes individual students. Even the Visalia Rawhide, the class A advanced affiliate of Major League Baseball's Arizona Diamondbacks, sponsored a Desktop Desk.
Mayben says about the sponsorship program, "That was a great experience, working with all these amazing clubs and local businesses to support the community, students and adults with disabilities." Since returning to teaching fulltime Mayben no longer actively seeks new businesses to participate in sponsorship programs but welcomes inquiries from interested lions/rotary clubs, businesses, and other organizations. Interested parties should contact Rob Mayben at rob@desktopdesk.com.
Exclusive Back to School Deal for The Mobility Resource Readers: 50% OFF
To celebrate the 2012 back to school season Mayben wants to offer you, The Mobility Resource reader an exclusive $400 discount. Just send Mayben an email at rob@desktopdesk.com with the promo code "MobRes10" in the subject line to get your Desktop Desk for only $399. Like any good special offer, BUT WAIT THERE'S MORE! Mayben will throw in a Desktop Desk carrying bag, an $89 retail value, at no extra cost to you. The carrying bag will make transporting the Desktop Desk to and from your handicap van simple. Deal remains valid throughout September 2012.
comments powered by

Disqus