The Clayton's Never Quit: How a Family Motto Can Help You Overcome Obstacles
When our son was an infant, routine tasks were a significant struggle for him. As the result of suffering several strokes, he had weakness on his right side making simple tasks a hardship. Crawling, standing, taking a single step, dressing and undressing, walking down the stairs – all of these milestones that so many children progress through with ease took months and years of us driving him to therapy for him to accomplish. It was clear that many challenges were in store for him and us in the future, and we wanted to figure out a way to motivate him to keep trying despite the difficulties he would face. That was when we came up with our family motto, "Clayton's Never Quit!". A simple phrase with a whole lot of power, not just for our son, but for all of us!
Our whole family took ownership of our motto, we took it seriously. It wasn't our son's motto, it was our family's motto.
When I was working on my dissertation, my husband and son reminded me "Clayton's Never Quit". When my husband was recovering from shoulder surgery, we reminded him "Clayton's Never Quit". As my daughter learned to do a cartwheel, we cheered her on, "You can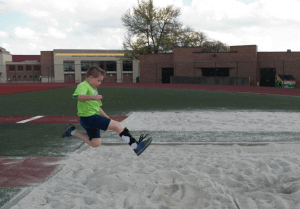 do it, Clayton's Never Quit!". When my son wanted to learn to do the long jump, we encouraged him over and over "Clayton's Never Quit, you can do it!"
During his first season of track and field, we cheered him on as he tried to long jump, and fell again and again. He just couldn't get the coordinated movement down despite his many attempts. However, he kept trying, teaching himself to leap over sidewalk lines, then over a small traffic cone, then the following summer, over the sand to a national record breaking long jump at NJDC. All the while telling himself Clayton's never quit!
As our son got older, we discovered many applications for our family motto, Cub Scout projects, learning multiplication tables, jumping rope in gym class, running a 400-meter race, riding a bike, playing the recorder, writing in cursive. Some things on this list he has gotten down with practice, impressing us with his determination and spirit in the process. Others he is still working on, making slow and steady progress towards mastery. Our family motto has seen us through many obstacles, but I know there are more to come; algebra, learning to drive and dating to name a few. Yet I'm confident that our family motto has given both our kids a strong foundation in determination and a drive to overcome challenges that their father and I have yet to imagine they will face in the future.
Find your perfect Wheelchair Van
Select from thousands of wheelchair vans for sale from hundreds of nationwide dealers
The Mobility Resource has one of the largest selections of Dodge, Toyota, Chrysler, Honda, Ford, Chevrolet wheelchair vans
View All Wheelchair Vans
As our family has navigated the challenges of starting up Strong as Steel Adaptive Sports for kids with disabilities in our area, we have faced many difficulties, many questions we c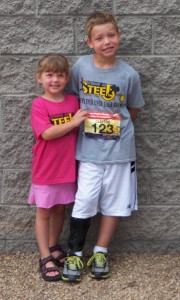 ouldn't find the answer to, many times we wondered if all our efforts would be worth it. We remain determined to see our vision through, you see, Clayton's Never Quit!
A family motto can help encourage all of the members of a family to work towards achieving their goals. So feel free to claim a motto of your own. The Garrahan's Never Give up! The Tallevi's Always Try! The Walker's Always Work at it! A motto is one way we help motivate both of our kids and us parents too!
I'd love to hear what works for you to keep your kids driven to overcome obstacles.
comments powered by

Disqus