Filmmaker Ray Ellis Discusses Documentary Certain Proof: A Question of Worth
If you know a student who relies on handicap accessible vehicles to get to and from school, you will likely find the documentary Certain Proof: A Question of Worth intriguing. Filmmakers Ray and Susan Ellis produced the film which features three different students with severe cerebral palsy (CP) inside North Carolina's public school system. Recently Ray Ellis chatted with The Mobility Resource to talk Certain Proof: A Question of Worth.
The Idea
Certain Proof: A Question of Worth came about through Ellis and his wife creating videos for nonprofit organizations. He explains, "In the past we've done a lot of short docs which were really focused on fundraising and awareness for certain nonprofits and it was definitely had more of a sales pitch to it in a way so the nonprofit could really show off what they did."
One such nonprofit, New Voices Foundation, introduced Ray and Susan Ellis to five-year-old Josh, nine-year-old Colin and 12-year-old Kay. The Ellises worked with New Voices previously. "We did a fundraising film for them they use quite often." After meeting the children mentioned above and their families Ellis recalls thinking. "There was so much of a story here a straight out documentary would be good to raise awareness about what's going on in the education system with these children."
Challenges to Filming
Given their severe cerebral palsy cases, the three children provided challenging subjects to shoot a documentary on. Ellis describes his and his wife's usual filming strategy. "All our work is characterized by interview driven storylines. We usually just come up with some questions and sit down with the interviewee and ask them. They respond and then we go back and start editing the story together."
Find your perfect Wheelchair Van
Select from thousands of wheelchair vans for sale from hundreds of nationwide dealers
The Mobility Resource has one of the largest selections of Dodge, Toyota, Chrysler, Honda, Ford, Chevrolet wheelchair vans
View All Wheelchair Vans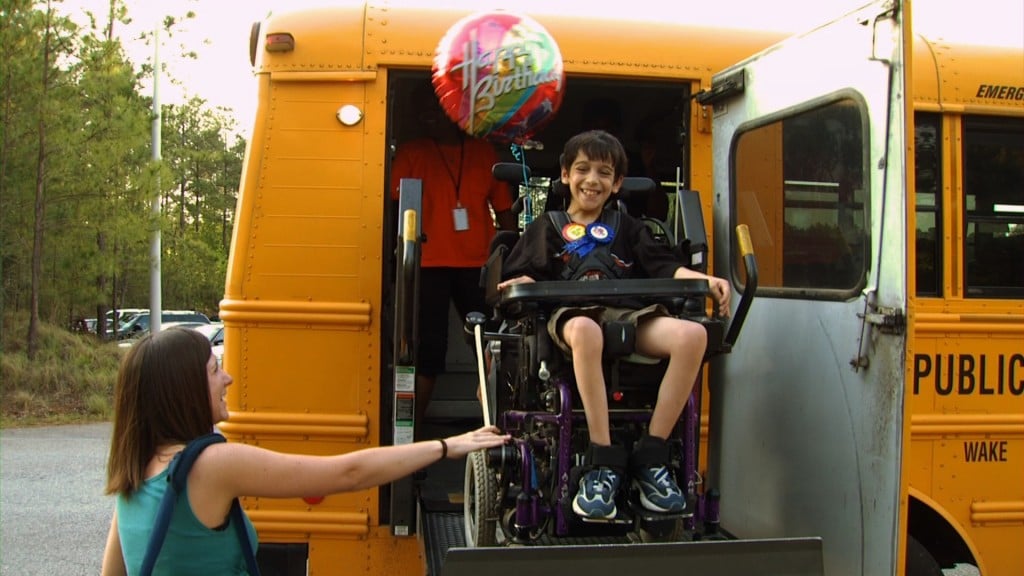 He then notes his initial expectations entering filming Certain Proof: A Question of Worth and how those plans soon proved insufficient. "There are three children. One of them had some verbal ability, that's Kay – the oldest one. The other two did not and so you know we said 'We'll write the questions and they'll write out with their communication devices the answers.' Even though that wasn't going to be the case either. Third-grader Colin takes a long time to write words, especially answers to questions. And then Josh who is five really only had yes or no."
To compensate the communication issues Certain Proof: A Question of Worth gains insights mostly from family and educators. Yet a determination remained to capture a genuine look into the students experiences. "We also wanted to make sure we captured what life was like for these children. So even though there was no say in an interview with Josh or Colin, we did interview Kay on camera. We wanted the camera with them through their school day with their therapists so at least the audience could see what a daily life was like and how frustrating it could be."
An Important Message
When asked why he and his wife decided to do a full documentary on this project Ray Ellis said, "This just seemed the perfect topic because these children deserve much more of a chance in their education but really most people have no experience with these children and they probably have misconceptions about them."
Ellis continues "What we found out in the process of working with New Voices and meeting and becoming friends with these children and their families that just because there are mobility disabilities or communication disabilities, they really have no effect on their cognitive abilities. But, they're held back so much by different barriers and struggles along the way." For instance, no wheelchair lifts on the transportation set to take students on a field trip.
Answering a follow up question regarding how teachers reacted during their documentary interviews Ellis states "I will say they did talk honestly which was good. A lot of the teachers did have reservations. It was important for us to get their opinions on what they thought." Honesty stands an evident characteristic within Certain Proof: A Question of Worth's trailer.
Captivating Viewers
The cerebral palsy community appears set to fully embrace and push to the forefront Certain Proof: A Question of Worth. Ellis shares "Certainly parents have latched onto the film because there are just not that many films about children with cerebral palsy and the struggles they face, the struggles the families face." He also states, "Therapists want to see it because this will give a really good view as to what it's like in the public education system right now for these kids. It gives people who are becoming therapists a better idea of what's ahead and what we can do to see the potential of a child."
Additionally CP connections assisted in landing Ellis' film a celebrity endorsement and television home. Academy Award winning actor Chris Cooper offers a short introduction to the film. Cooper and his wife Marianne Leone parented a son, Jesse, with cerebral palsy who sadly passed away at seventeen years old. Leonne writes about their child in her book Jesse: A Mother's Story.
A little networking led Ellis to send his film to Leone. Ellis tells she then reached out to him. "Marianne called me and was like 'This documentary is just like my book.' The same struggles they went through. I didn't even ask for their help. I just wanted them to see it. She said 'Chris will shoot an intro for you, no problem.'"
Another mother of a kid with cerebral palsy ended up helping Ellis secure the documentary a television home on STARZ Kids & Family. "A mother of a child with CP had seen our Facebook page, wrote me, and said 'I work for Anchor Bay Home Entertainment which is a subsidiary of STARZ. If I got you a contract, would you submit the film to STARZ?'" Certain Proof: A Question of Worth debuted on STARZ Kids & Family Sunday, March 3rd. For upcoming airtimes visit the STARZ website. You can also purchase the film on DVD at www.certainproof.com.
comments powered by

Disqus