From the Siblings Point of View: Disability Doesn't Dampen the Sibling Bond (Part 1)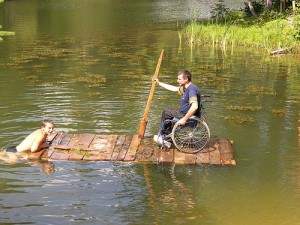 A while back I wrote an article about
raising a typically developing child alongside a child with a disability. Through that article I shared some of my experiences managing the challenges that have arose in our family. However, I wanted to know more about the experience of having a sibling with a disability through the eyes of the siblings themselves. I figured the best way to find out about these experiences was to talk to some siblings of people with disabilities and so I did just that.
Through the course of gathering information for this article, I have had the pleasure to talk with a wide range of siblings of people who have disabilities. I have talked to kids ranging from as young as five, all the way up to adults. I have chatted with people who have siblings affected by complex genetic syndromes, autism, severe cognitive disabilities, muscular dystrophy, cerebral palsy and other challenges. I have spoken with boys and girls, men and women. Altogether, I have spoken with an amazing array of siblings who have brothers or sisters with disabilities. It was a pleasure to get to know all of them.
I asked all of my interviewees a series of questions relating to their own interests, their relationship with their sibling, their family life, and the perceptions of others towards their sibling with a disability. As you can imagine, the answers I got varied quite a bit from profound to heartfelt, to adorable. I will be sharing the results in a series of articles focusing on various subsets of the information I gathered.
One might imagine that it's challenging for a typical sibling to bond with their brother or sister who has a disability. I was curious if this was true so I asked each of my interviewees what types of things they like to do with their siblings.
Find your perfect Wheelchair Van
Select from thousands of wheelchair vans for sale from hundreds of nationwide dealers
The Mobility Resource has one of the largest selections of Dodge, Toyota, Chrysler, Honda, Ford, Chevrolet wheelchair vans
View All Wheelchair Vans
When asked wha
t sorts of things the interviewees enjoyed doing with their siblings, I got answers ranging from pretty typical sibling interactions, to some things I had never e
ven hear of. For instance, I spoke with five brothers who have a 3-year-old sister with multiple disabilities. I spoke with each of the brothers separately but interestingly, they all talked about how much they like to play with their little sister and each one mentioned that she really enjoys playing with their hair. This group of boys adore there little sis so much, they sit with her and let her play with their hair because she enjoys it.
Jean, an adult who lost her brother to muscular dystrophy several years ago talked about how much she and her brother enjoyed joking around and watching TV together. Jean's brother's mobility was limited to only a few fingers on one hand, but this didn't stop him and Jean from enjoying each other's company.
Ama, a 5 -year-old whose older brother is affected by cerebral palsy (CP) shared that she likes to play games with her brother but that they fight a lot. Sounds like a pretty sibling relationship to me.
Kathy who has four adult brothers with severe cognitive disabilities shared that she felt like her relationship with her brothers always placed her into a caretaker roll rather than a sibling roll. Nevertheless, she also noted that her brothers taught her a great deal about unconditional love.
Arianna, a big sister to a 5-year-old girl who is affected by CP, shared that she and her sister enjoy playing together the way many siblings do, they play with toys and enjoy spending time together.
Hannah, a young adult, shared that she and her sister who has autism "love to watch movies and find weird TV shows on Netflix to watch together. We also love to check out art exhibits at museums together." Hannah and her sister both having a mutual love for art history and contemporary art and enjoy bonding over shared interests.
Aidan, an 11-year-old young man who has a younger sister with a disability shared that he and his sister enjoy playing games together, especially monopoly and that they play ball together. While these things sound fun, he mentioned another past time they both enjoy that I hadn't heard of before, they go to "Pedal Pulls" together. If you are like me and haven't heard of a pedal pull, Aidan explained that "a pedal pull is when a kid between the ages of 4 and 14 gets on a bike like tractor and you connect a medal sled with wheels to the back and you see how far you can go without stopping". Who knew? Sounds like fun!
All of the siblings I spoke with were able to share that they enjoy doing together with their brothers and sisters despite their challenges. For some, their siblings challenges affected the ways they were able to spend time together and the things they were able to do together, however it was very clear that they didn't affect the strength of the bonds the siblings share.
Recently while attending NJDC with my family, I had the pleasure of spending time with many other families raising children with and without disabilities. I did a little people watching at the various events and took some note of sibling interactions. I saw sisters singing together at a karaoke night. I saw brothers dancing with sisters. I saw two brothers wrestling, one brother who used a wheelchair and the other who didn't. This was some serious wrestling, however the chair didn't seem to get in the way of the boys goofing off together. I also saw brothers and sisters up in the stands cheering like mad when their siblings competed, the biggest fans of the athletes was often their brother or sister.
For many, having a brother or sister with a disability led to increased creativity with ways to play or just spend together. For all the siblings I asked this question too, there answers focused on what their siblings could do not what they couldn't. What a great outlook to have on life.
comments powered by

Disqus