Special Needs Parents: On Grieving the Imagined Child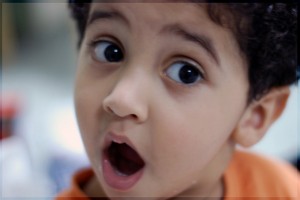 For many of us, our adventure began in the bathroom, peeing on a stick and waiting with bated breath as the plus sign got darker and clearer. If you're anything like me, there may have been two or even three sticks, each plus sign leading to more and more excitement!
Next come the books, "What to Expect When You're Expecting" and "My Pregnancy Week by Week", pouring over them, what is ok to eat? What isn't? Finding an OB/GYN and making the first appointment seem like incredibly thrilling chores.
Watching your body begin to change and knowing that a tiny human being is responsible is amazing. Reading books and playing music for your belly seem like the most normal things in the world. Having a chat with your belly seems even more normal.
Hearing your baby's heart beat for the first time makes your own heart beat a little faster. Waiting to tell your family and friends your big news is ridiculously difficult, you break and tell those closest to you early, and then make the announcement to everyone sooner than you planned to anyway.
The first shopping trip to the maternity store, buying adorable outfits that you would otherwise never consider makes it feel so real. The first ultrasound, maybe finding out if it's a boy or a girl. The hospital tour and baby care classes, the fact that you haven't seen your own toes in weeks, yes this is really happening! You will be a mom soon.
Find your perfect Wheelchair Van
Select from thousands of wheelchair vans for sale from hundreds of nationwide dealers
The Mobility Resource has one of the largest selections of Dodge, Toyota, Chrysler, Honda, Ford, Chevrolet wheelchair vans
View All Wheelchair Vans
Through all of these milestones, parents to be are imagining, dreaming and fantasizing about their sweet little baby to be. They are picturing their sweet little one learning to crawl, take their first steps, say their first words. Their first day of kindergarten, graduating from high school, college, their wedding day. The sports they will play, will they join the swim team like their father or the track team like their mom? Will they dance, play football, figure skate, or play hockey and baseball is of course a must.
You're sure they will want to follow in Dad's footsteps and enter the military service. Or maybe they will be a doctor or a lawyer, a teacher or full-time parent. What will their lives be like? So many possibilities the world is an empty book just waiting for this precious unborn child to write their life story in.
As a parent to be imagines all of these possibilities, rarely does an illness or disability play into the future for their child. However, as many of us know all too well, that is the reality for some children despite eating all the right foods and avoiding all the wrong ones.
Despite excellent prenatal care. Despite the classical music and reading Dr. Seuss to your belly every night. Despite doing everything the books said to do, that sweet baby may be born with, or later acquire a disability.
That moment, when a parent learns about their child's challenges and the possible outcomes, are life-shattering.
The questions begin "will they ever ________", fill in the blank with any number of questions, go to college, get married, live on their own, make friends, learn to dance, learn to talk, learn to walk.
Depending on the severity of the condition and the doctor being asked, answers range from little hope, some hope but not much, or wait and see. For many parents, coming to terms with this new reality is a very painful process, in fact it's very much a grieving process.
It's incredibly hard to let go of that pretend human being you watched so vividly in your mind's eye. However, letting go of that imaginary person can help parents accept the wonderful person that they weren't expecting. As parents let go of that fantasy baby-child-adult they dreamed about, they can begin to dream about possibilities for their actual child. Maybe they won't be the star of the football team, but they may be the star of the debate team. Maybe they won't run for their high school track team, but they may be on the track with an adaptive sports team. Maybe they won't ever learn to skate, but they may be an incredible sled hockey player. They may even go to the Paralympics.
I say, go ahead and dream big dreams within the realm of possible for that real child! Odds are pretty good, no matter what happens, that they will surprise you with what they can do everyday.
Photo credit: Mohammed Alnaser / Foter / CC BY-NC-ND
comments powered by

Disqus