Gunshot Wound Changes Man's Life from 'going nowhere' to International Success
[This is a repost from the
Akron Beacon Journal.
Published on September 25 by staff writer, Jim Carney.]
A drive-by shooting looked like the end of the world for a Chicago teenager living the gang life and "going nowhere."
It turned out to be the beginning.
"It is the greatest thing that ever happened to me," said Will Waller, now 38 and a successful business executive and gold medal-winning athlete.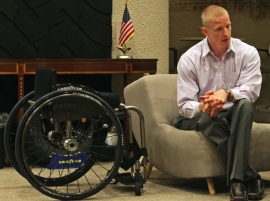 Will Waller, a member of the USA men's wheelchair basketball team that won the bronze medal at the 2012 Paralympics in London, talks about playing for the team and his life in general during an interview at Goodyear's corporate offices. (Ed Suba Jr./Akron Beacon Journal)

Find your perfect Wheelchair Van

Select from thousands of wheelchair vans for sale from hundreds of nationwide dealers

The Mobility Resource has one of the largest selections of Dodge, Toyota, Chrysler, Honda, Ford, Chevrolet wheelchair vans

View All Wheelchair Vans
"Without a gunshot wound at 18, I wouldn't have had the opportunities," Waller said of a list that includes attending college, entering wheelchair sports, traveling the world and meeting his future wife and raising a family.
Waller, then 18, was seated in a car in Chicago when a bullet struck his right side. It damaged his spinal cord before exiting the left side of his body. He said another gang was responsible.
"I was in excruciating pain," Waller recalled. Emotional pain followed — depression over his paralysis of both legs.
It was during a second period at the Rehabilitation Institute of Chicago that Waller got involved in strength training and wheelchair athletics. Members of his gang paid for him to go to junior college in Chicago, where he began playing competitive wheelchair basketball.
The 6-foot-5-inch Waller, who had played baseball in high school, then went to the University of Illinois, graduating with a bachelor's degree in psychology and a master's in human resources. It was also there that he met Kylie Martin, then a member of the university's women's basketball team.
"What we have now is amazing," Kylie Waller said. The couple live in Hudson with their three children: Sydney, 6; Chase, 4; and Calvin, 17 months.
She said her husband has always been a leader and "all the guys on the team look up to him."
During his college years, Waller began playing wheelchair basketball internationally, enjoying much success: a gold medal at the 1997 Pan Am Games in Winnipeg, Manitoba; gold at the 1998 World Championships in Sydney; bronze at the 2000 Paralympics in Sydney; and gold at the 2002 World Championships in Japan.
In 2004, doctors removed a kidney that had been damaged in the shooting. During this time, Waller found his successes in the business world.
He worked for Honeywell in South Bend, Ind.; San Jose, Calif., and Phoenix, and then worked for Whirlpool in Michigan.
Waller began working for Goodyear in 2008 — he's now in the human resources department in support of global finance and information technology — and soon got back into international competition. Team USA won the bronze medal at the world championships.
Earlier this month, Team USA defeated Great Britain to again win the bronze medal at the 2012 Paralympics. Waller played power forward on the team in what might have been his last international competition.
To top it off, his entire family spent more than a week together in London.
Goodyear CEO Rich Kramer praised Waller.
"It takes a lot of dedication and training to perform at a high level in anything you do," Kramer said. "For anyone to be a business leader and an elite international athlete at the same time is rare. But to get to those levels the way Will has done it is extraordinary."
Waller called it a humbling experience to represent his country on a basketball court.
He said that because of the positive turn his life took, he likes to give back and give encouragement to others.
When Springfield Township police officer Mark Dodez was paralyzed after being struck by a drunken driver in 2011, Waller met with him to offer encouragement. He also helped to organize a fundraiser for his family.
"Without people steering me in the right direction, I wouldn't have necessarily gone through the doors I have gone through," Waller said. "Now I try to pay back."
Dodez called Waller an inspiration to him.
"He is a great guy," said Dodez. "He has overcome a ton. He is a fantastic person."
He said Waller came to visit him in the hospital after he was injured in the hit-skip accident. He called Waller an example of what someone with disabilities can accomplish and "what you can become and what you can overcome with some disabilities."
Waller said he probably will not play internationally again, but he is not closing the door completely on the idea. He anticipates playing domestically and might get involved in the administrative end of the U.S. men's wheelchair basketball team, including fundraising.
"I owe a lot of people," Waller said.
Jim Carney can be reached at 330-996-3576 or at jcarney@thebeaconjournal.com.
comments powered by

Disqus