Helping Vets With PTSD: 4 Holistic Initiatives You Might Not Know About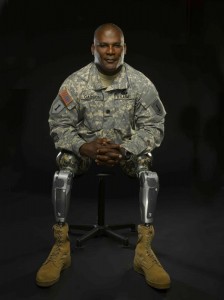 When my friend's brother (I'll refer to him as Sam) returned from Iraq, he stayed in isolation in his room for some months, only leaving to meet infrequently with a few friends. He ate his meals in his room and watched TV and that was it. He rarely changed his clothes and he wore the same bandanna day in and day out. One day, his mom, my friend, said something about it. Sam, raged at her, screaming, "My buddy got blown up in front of me and it's his blood I'm wearing. Nobody washes this." His mom said nothing more; she understood as did his siblings and his dad. He took off the bandanna when he was ready months later; it remained unwashed and blood soaked, hanging on a dresser mirror for over a year. Then he finally burned it on his own one night.
That first year back home, Sam was on the wrong medication, either too little or too much. The psychiatrist recommended to his parents by his family doctor did not completely understand PTSD. He didn't follow the best protocol for a returning vet. Sam was taking 10 meds with varying side effects that had to be counteracted by additional meds. It was a new situation for psychiatrists and their diagnosis at the time was spotty. (It has since improved). He was physically ill and emotionally distraught, exacerbated all the more by those around him who could still smile and laugh and take pleasure in ridiculous things.
During that first year, Sam resisted counseling. His physical and mental condition worsened. He got into fights and during one of them, broke a bottle and threatened a group of young men in a parking lot. He was arrested and faced charges for fighting with a deadly weapon, though he was defending himself and the buddy who was with him. His family hired a lawyer and he pleaded guilty and paid fines and worked community service, his background figured in the sentence. Unable to work, he found little purpose in his life, but unlike the soldier in the film, The Hurt Locker, he could never go back and serve in the military for another tour. He had seen enough.
Toward the end of that first year home, Sam met up with another returning vet who implored him to go to the V.A. for help. "They would understand," he said. It was a good thing. The V.A. doctor who examined Sam immediately took him off eight of the meds and told him his kidneys were in toxicity and if it wasn't stopped, he'd have to go on dialysis. Sam went into group, saw a therapist and joined other counseling sessions. Eventually after a few years, he was able to recover and find purpose in his life helping other returning vets. But the young, enthusiastic man who went off to preserve this country from terrorism vanished as if in a dream. He and his family will feel the impact of his time in Iraq for the rest their lives. But in this knowing, Sam is able to greatly help others who are returning to a culture that often doesn't understand and appears to be callous toward them in the extreme.
Oftentimes, the family suffers along with the veteran. Patrick Stewart in a poignant revelation discussed how his father who fought during WWII abused him and his mother. Years later Stewart was told by an expert in the field that his father was suffering from PTSD and because he was never treated, it never left him. In the 1940s, this severe physical and psychological condition was known by the benign euphemism as "shell shock," and vets were left to handle their condition on their own, as they "bucked up and were men." Because of Stewart's traumatized childhood in remembrance of his father he supports the non profit UK organization Combat Stress and for his mother, Refuge, a non profit organization which gives women and children a refuge from violent partners/spouses.
Like Sam, when vets came back from the war in Iraq, they were dislocated and severely injured emotionally. The culture and medical profession outside the VA was widely clueless even inattentive to PTSD. As a result of celebrity media attention, films, unfavorable and alarming statistics, tragic events and many vets speaking out, there has been forward momentum in educating the public, the medical profession and the military about the traumatic physical and psychological burdens soldiers face in service and vets face coming home. Currently, in the United States as in the UK, non profits and branches of the military have created initiatives and programs some of which are on the forefront of new strategies to help soldiers and vets deal with PTSD.
Holistic Initiatives and Programs

Because of the mediocre success rate of giving soldiers meds or sending vets home with bottles of pills and a few therapy sessions to "cure" PTSD, the military, the VA and others have had to rethink these strategies. There are no quick and dirty answers, no facile cures. Many have come to believe that PTSD can be mitigated but never cured. To be effective and deep, the healing must be gradual, the therapeutic process affirming, empathetic and uplifting. This takes time. There will be set backs. There must be a strong emotional component delivered by like minded individuals who have experienced trauma and who perhaps are farther along in the process to guide, offer a hand when needed and know when to back off when the anger comes until it breaks into the underlying sorrow and eventual reaching out for healing. Soldiers in active duty who face PTSD need tools to help them regroup emotionally, de-compress and handle high levels of stress more effectively.
Holistic and wellness practitioners who employ techniques like yoga, meditation, healing touch, craniosacral therapy, healthy, clean food and cleanses, guided spiritual principles even music therapy, suggest that these techniques can help to enhance and restore the mind-body connection and return soldiers and vets to a state of increased well being.
1. The Warrior Resilence Center in Fort Bliss, Texas is the Army's premiere PTS treatment facility. It uses alternative medical practices and holistic approaches which have been found to be more effective based on objective data that the Warrior Resilence Center keeps and monitors. There are 14 similar facilities across the Army, including resilience centers in the war zone like The Freedom Restoration Center at Bagram Airfield, the largest U.S. military base in Afghanistan. However, each program differs because of available local resources and counselors' insights into what appears to be most helpful based upon the individual participants. The program is four weeks. Soldiers in the program remain assigned to their current units. However, their duty station for four weeks is the Warrior Resilience Center, from 7:30 a.m. to 4 p.m. The goal is to expose them to a little bit of everything so that, at the end of the four week period, they can help come up with an after-care program. After participants have tried all of the alternative treatments, they select which ones they prefer, which ones appear to work best as tools they can rely on to treat the symptoms of PTS and move forward.
The staff of 13 clinical social workers, psychologists, reiki master teachers, licensed massage therapists, an acupuncturist, and a yoga, tai chi and qigong instructor work together as a team to help the Soldiers. In addition to the various alternative treatments which participants select as the most effective, they also receive intensive therapy sessions. They have individual therapy twice a week and group therapy four times a week. According to social workers it is common to hear families praise the program and hear Soldiers say the program saved their lives. The tools help soldiers return to their careers in the military where they are able to help other Soldiers. It is hoped that using these new techniques will also aid them in preserving their well being so they will continue their use and better adapt to civilian life after their military service has ended.
2. Omega Institute in Rhinebeck, New York is a nonprofit wellness center. The Omega Institute, uplifting wellness and the human spirit globally (since 1977) offers workshops, conferences, R and R retreats and online learning in addition to other programs. For over 20 years Omega Institute has supported individuals, vets and family members dealing with PTSD. This year they are offering five workshops/conferences for those in military communities, families and vets, and those working with soldiers currently serving or vets. In April, Omega Institute hosted a 5 day retreat for vets living with PTSD entitled, "The Costs of War, Violence & Denial."
Four of the workshops/conferences are being held in October. On October 18-20 Omega will be convening a conference for Health-Care Professionals working with vets and their families: "Veterans, Trauma & Treatment, Best Mind-Body Practices." The conference is providing information on the cutting-edge mind-body modalities that the military is investigating as a complement to traditional drug/talk programs. Another 5 day workshop in October will be for military personnel and those servicing military communities who are dealing with PTSD, entitled "Advanced Teaching Skills for Addressing Combat-Related Issues." Importantly for veterans, on October 20-25, Omega is offering additional programs. One is a "Retreat for Military Women and Women Veterans." If one stays on the beautiful, quiet Omega campus, one is able to drink the reverse osmosis, purified water and eat organic, locally sourced, clean food and, if needed, gluten-free items. Omega supports and embraces renewable energy and sustainability in all aspects of living, especially their energy resources. They offer tiered pricing and scholarships.
3. Project Odyssey is a holistic program under the auspices of The Wounded Warrior Project. Project Odyssey offers outdoor, rehabilitative retreats that help vets foster connections with the peaceful beauty of natural surroundings. On these retreats vets are able to share activities and experiences with peers, the Odyssey staff and trained counselors. Outdoor, recreational activities include horseback riding, canoeing, whitewater rafting, kayaking, rock climbing, a high ropes course, fishing, skeet shooting, sled hockey and skiing at retreats held in various locations around the country. Vets have the time and opportunity to develop inner strengths and renew their courage to continue recovering and healing from the long war. It has been found that the experiences gained from Project Odyssey allow vets to face the challenges related to combat stress by helping them improve their mental attitudes and outlook. The environment is one of inspiration and encouragement for them "to build new skills, connect with peers, and find support for combat stress among Wounded Warrior Project® (WWP) staff and trained counselors."
4. The Paws of War is a program that falls under holistic because it provides treatment for the whole person through an intangible relationship with another being. This therapy dog program has been developed by the New York-based group Guardians of Rescue. GoR rescues dogs that either are strays or dogs that have to be left behind by deployed soldiers. The group then trains the dogs to become "buddies" for soldiers returning from the war zone with PTSD. Therapy dogs have been shown to help those with combat stress. The dogs provide comfort, unconditional affection and love. They offer a more potent connection than the isolating human interactions from those in a peacetime culture that little understands warfare and military society, as has been indicated by vets' increased suicide rates and violent events, some enacted by vets who were attempting to deal with PTSD.
How the program works is the dogs received from shelters are evaluated prior to training to make sure they qualify. Each dog is carefully matched up with their vet/owner and follow up help and training is provided by GoR as well as free transportation and delivery. GoR gives a 100% guarantee with their buddies and will take a dog back if things don't work out. All Paws of War PTSD dogs are certified service dogs. Their certification qualifies them to travel in all public venues (including airlines, taxis, restaurants, etc.) with their military veteran owner as protected through the ADA (Americans with Disabilities Act). Because Guardians of Rescue relies solely on public donations, there is no cost to the veteran.
These rescued dogs rescue their owners by helping restore their connections to civilian life through their love, support and enthusiasm. Vets find their relationship with their dog and caring for their dog makes it easier to get out of the hell of depression, sleeplessness and even pain from disabling physical injuries. Guardian volunteer U.S. Army Corporal John Walis, recovering from PTSD after serving in Afghanistan attests to the healing power of these therapy dogs in his testimony on the Paws of War website.
It's Never Too Late For Citizens to Become Involved
This year The Veterans Affairs designated June 2013 as PTSD awareness month. The month has passed but the statistics about vets with PTSD, TBI (traumatic brain injury) and their suicide rates continue. Programs like The Wounded Warrior Project (Combat Stress Recovery Program) and our own government's The Veterans Affairs National Center on PTSD can help. But such programs aid only those vets who seek treatment. According to the same statistics, 50% of the vets who return after deployment never seek help though they have PTSD. More must be done to help warriors mitigate PTSD. Holistic approaches appear to be an avenue that offers promise.
What have individuals done to help? James Gandolfini was a proponent for supporting vets with PTSD and he remained on the front lines speaking out and helping to raise money. Using his notoriety and connections, he drew attention to the vets' culture clash after returning home by producing two documentaries. In Alive Day: Home from Iraq (2007) Gandolfini personally interviewed 10 survivors of the Iraq War on the challenges they faced returning to civilian life. In 2010 he produced another documentary called Wartorn 1861-2010 (It won a Prism Award for Best Documentary) which focused on vets with PTSD from the Civil War to the present.
What can we do to help? We must expand our awareness and sensitivity toward returning vets and deployed soldiers. We must support all veterans, encourage them, be prayerful and hopeful. We can also petition our representatives ensuring that if any programs are to be cut, the last ones to be cut should be those supporting vets, their families and those still deployed in the Middle East. No family member upon welcoming their returning loved one home after agonizing months fearing for their safety should have to experience their suicide or other terrible event because their loved one's PTSD was left untreated.
Until then though the wars may end and the troops return home, their fight goes on. Keep them in remembrance and donate when you can to the Wounded Warrior Project, Project Odyssey, Omega Institute and Paws of War. These organizations support our soldiers and veterans and help them in their ongoing recovery from PTSD. Our culture must continue to reach out to vets and this is a great way.
Find your perfect Wheelchair Van
Select from thousands of wheelchair vans for sale from hundreds of nationwide dealers
The Mobility Resource has one of the largest selections of Dodge, Toyota, Chrysler, Honda, Ford, Chevrolet wheelchair vans
View All Wheelchair Vans