Here's To The Accessible Holidays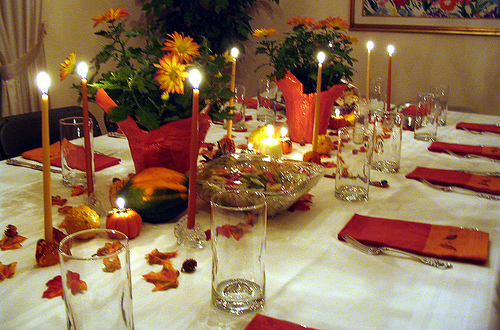 The holidays, starting with Thanksgiving, are coming up quick. The preparations are beginning and plans are starting to form.
Whether you are hosting company this year or if your plans are to travel to visiting family and friends for the feast, there's a few accessibility things you may want to keep in mind for loved ones with mobility issues.
Do you or your loved ones use a mobility device? Are you concerned that you won't be able to join in the festivities because of lack of accessibility?
So many of our loved ones tend to inadvertently be left out of our celebrations because of issues with steps or stairs, narrow hallways, or lack of accessible bathroom facilities. Most of the time, these little details that are overlooked when planning a gathering at most people's homes.
"It's just a step or two." This is something that I hear a lot when it comes to my wheelchair and the ability to enter another person's home. Unless you have a ramp or another way for a wheelchair or scooter to drive over them, those 4-6 inches may as well be mountains.
Find your perfect Wheelchair Van
Select from thousands of wheelchair vans for sale from hundreds of nationwide dealers
The Mobility Resource has one of the largest selections of Dodge, Toyota, Chrysler, Honda, Ford, Chevrolet wheelchair vans
View All Wheelchair Vans
Try including those with mobility issues this holiday or any occasion by hosting where it is accessible. Addressing any obstacles to mobility in your home. Do you have any steps up into your front door? Are the halls narrow or cluttered? Is there furniture impeding accessibility?
Moving furniture around is easy enough to solve this obstacle. Make sure there is plenty of space to move around and that clutter is kept off the floors.
You can make those steps a moot point by creating a ramp for those inaccessible places. Some plywood or a couple boards, even a heavyweight pet ramp will work in a pinch, but remember some mobility aids like wheelchairs can weigh hundreds of pounds. Make sure your ramp can take on the weight.
If accessibility is a problem you can't address in your home because of too many stairs, narrow hallways or inaccessible bathroom facilities, another idea would be to have your gathering at their place.
Accessibility is already addressed. You can plan to make the meal there or you can also have the holiday banquet as a potluck. Everyone can bring a dish to contribute, which also helps spread the responsibility of cooking.
Let us all be merry this time of year and let us all be present for the holiday toast.
comments powered by

Disqus